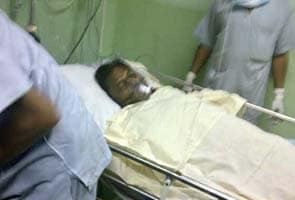 Ranchi:
The chief minister of Jharkhand, Arjun Munda, and five others who were travelling with him are safe after his helicopter crash-landed at the Ranchi airport. Those on board included two pilots and Mr Munda's wife. They were rushed to hospital and are being treated for minor injuries.
Mr Munda was travelling to his constituency of Sareikela-Kharsawan just an hour away from Ranchi, but the pilot then alerted the Air Traffic Controllers that he was having trouble steering because of a problem with the rudder control systems. The pilot asked for permission for a precautionary landing, which was granted, so he turned around and returned to Ranchi. The chopper hovered for ten minutes while the pilot tried to navigate the safest possible landing under the circumstances. He allegedly made attempts to land, before the chopper crashed.
(Watch: How Munda's chopper crash-landed)
Video footage showed the helicopter landing on its side. The crash landing did not cause a fire. The area around the landing has been cordoned off; flights to and from Ranchi are likely to be delayed because the runway is blocked.
An inquiry by the regulatory body Directorate General of Civil Aviation or DGCA will determine the technical problems encountered by the pilot. (
Read: Timeline of Arjun Munda's chopper crash
)
In May last year, Arunachal Pradesh Chief Minister Dorji Khandu was killed along with four others after their helicopter crashed in bad weather in a hilly terrain in the state.
Earlier in September 2009, Andhra Pradesh Chief Minister Y S Rajasekhara Reddy was killed in Kurnool district when the helicopter carrying him crashed.