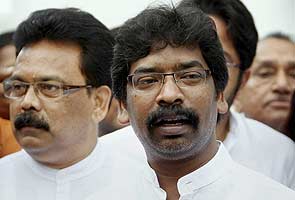 Ranchi:
Jharkhand Chief Minister Hemant Soren expanded the state cabinet Sunday and inducted six ministers. Jharkhand Governor Syed Ahmad administered the oath of office and secrecy to the six ministers in a ceremony at Raj Bhawan 11 am.
The six new ministers are: Haji Hussain Ansari, Jai Prakash Bhai Patel, Simon Marandi and Champai Soren of Jharkhand Mukti Morcha (JMM), Geeta Sri Oraon of Congress and Suresh Paswan of Rashtriya Janata Dal (RJD). The portfolios are likely to be distributed in a day or two.
The first cabinet expansion took place 22 days after the formation of the state government.
Jharkhand can have a maximum of 12 ministers, including the chief minister. As per the understanding between the allies in the ruling coalition, the JMM and Congress will get five berths each in the cabinet; two will go to the RJD.
At present, the chief minister belongs to the JMM, and there is a minister each from the Congress and the RJD.
Reliable sources have said that the Congress has yet to finalise the names of its ministers. The Congress has finalised, so far, only one name - that of Geeta Sri Oraon, who took oath on Sunday.
The other ministers from the Congress quota will be inducted into the cabinet in a second phase of expansion, sources said.
Hemant Soren became Chief Minister July 13, and won the trust vote July 18.