New Delhi:
Highlights
National archives has given permission to take copies of the document
Dr Karan Singh said it should silence critics who question its existence
Pakistan has cited papers that claim this document is a myth
For decades, crucial documents relating to accession of princely states to join India had been locked away in government files. But no longer.
For months, RTI campaigner and programme coordinator with the Commonwealth human rights initiative, Venkatesh Nayak, had been trying to obtain the documents of accession of 540 princely states.
He had even filed an RTI with the home Ministry, which finally transferred his petition to the National archives. Recently, the national archives gave him permission to take copies of these documents.
"The accession of J&K is a fact of history known to all of us, but for the first time , citizens can look at the actual document," Mr Nayak said.
The ruler of Jammu and Kashmir, Maharaja Hari Singh, had acceded to India on October 26, 1947, by signing the "instrument of accession" like other princely states.
"I have not seen this document in decades and it brings with it a flood of emotions," Dr Karan Singh, Rajya Sabha lawmaker and son of Maharaja Hari Singh, told NDTV.
Dr Singh told NDTV that he recognized the document and the hand writing of his father.
"Invaders from across the border in Pakistan had crossed over into J&K and were about to take over the airport. Had it not been for the bravery of the Maharaja's soldiers, the airport would have fallen, making it impossible to sign the document," Dr Singh told NDTV.
The lawmaker said he hopes the document will silence critics from across the border, who had questioned its very existence.
Interestingly even at the time of writing this news report, Pakistan's ministry of foreign affairs website have links to documents challenging the signing of this document, calling it a myth.
Dr Karan Singh told NDTV that he was also present in his home on that day -- October 26, 1947, when his father, Maharaja Hari Singh, signed the instrument of accession. The document was sent along with a personal letter to Lord Mountbatten, who was the Governor General of India at the time.
"This is an important page from India's history and it is wonderful that it is being preserved in the national archives for the public to see," Dr Singh said.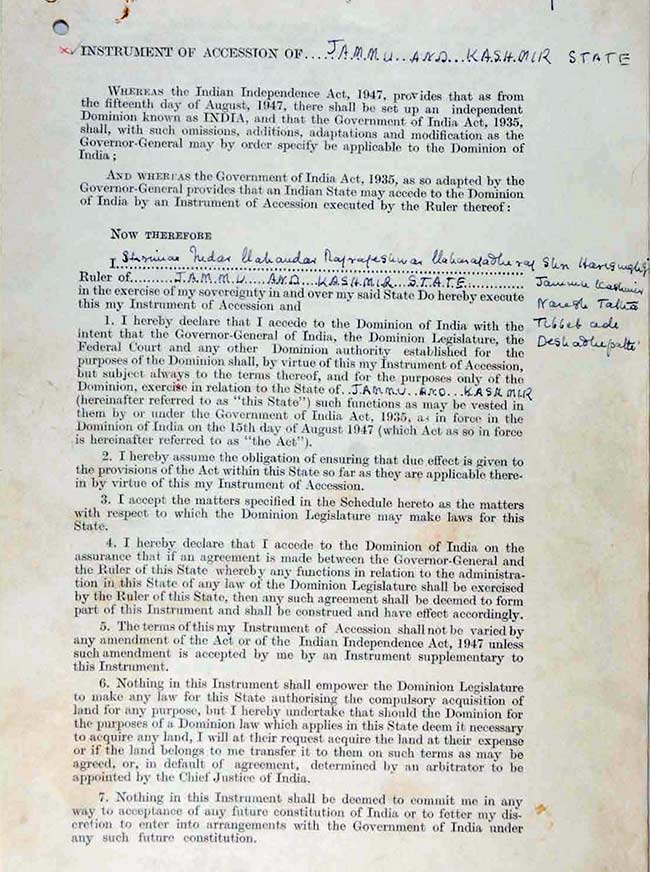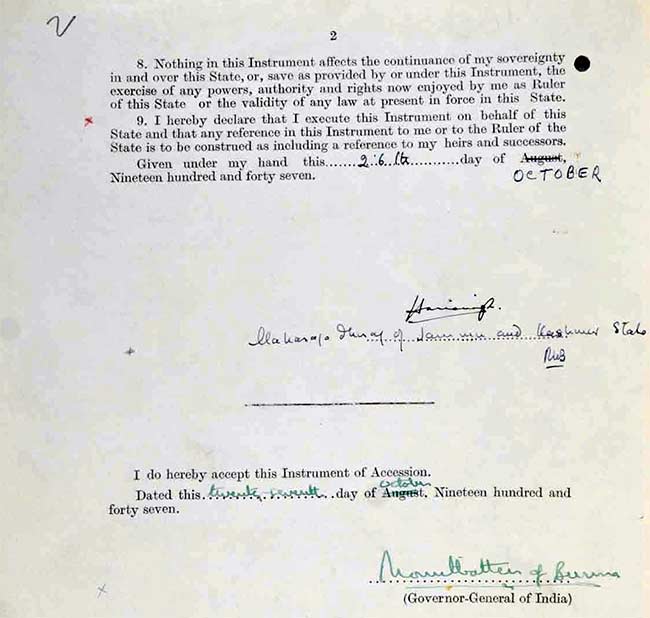 Get Breaking news, live coverage, and Latest News from India and around the world on NDTV.com. Catch all the Live TV action on NDTV 24x7 and NDTV India. Like us on Facebook or follow us on Twitter and Instagram for latest news and live news updates.