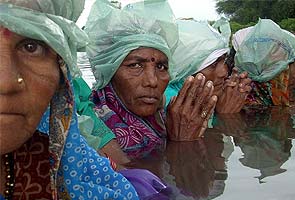 Khandwa:
Fifty one villagers have stood in neck-deep water - their bodies shriveled, covered with rashes and with their skin peeling - for 17 days, forcing the Madhya Pradesh government to accept their demands. Chief Minister Shivraj Singh Chouhan today agreed to lower the water level in the Omkareshwar dam, one of the key demands of the protesters in Ghogalgaon village of the state's Khandwa district.
"We have agreed to bring down the water level of the dam to 189 metres and to compensate the farmers with land for their land. We will also form a three-member ministerial panel to look into the matter," Chief Minister Shivraj Singh Chouhan said today. He said the benefit of land for land compensation would be available only to those who returned the monetary compensation paid to them in 2008 for their land.
But the CM also made it clear that, "The Supreme Court had given the go ahead to increase the water level to 196.5 metres, but we will not do so now. It will, however, affect irrigation in 20,000 hectares of land and generation of 120 megawatts electricity."
The protesters call it a "partial victory" and are still standing in water, in straight rows. They say they will wait for the water level to actually recede before they call off their "jal satyagraha" or "water protest," which they began on August 25, when the government raised the water level of the Omkareshwar dam by two meters.
A similar protest was launched by villagers near the Indira Sagar dam too to demand that water level in that dam be brought down from 262 meters to 260 meters. There was no word today from the CM on the Indira Sagar demand. Both dams are built across the Narmada river and are part of the Indira Sagar Project.
The water protests were launched with the help of the Narmada Bachao Andolan to demand proper rehabilitation for land that the villagers have lost and a reduction in the water level of the dam. The villagers say if the Omkareshwar dam is filled to its full height of 196.5 metres, its expanding reservoir will submerge even more of their land than is already under water. They say they have complained several times about incomplete and inadequate rehabilitation. They also allege corruption in handing out compensation for the land that was acquired from them for the Omkareshwar hydel project and say that there has been a singular lack of concern from the government in considering their demands.
The government's point is that it needed to raise the water level to capacity so that there would more water for irrigation as well as for generating hydro-electric power. The Omkareshwar project has a capacity to generate 520 megawatt of power. Dams in Madhya Pradesh are also overflowing due to excess late rain this monsoon.
A farmer on protest said, "My family has seven acres of farmland and it supports our family of 20-25 people. But it is submerged in the water, and our life will become useless and we will have no money," said a farmer on protest. The villagers have been demanding that they be given land for land. They also point out that according to Supreme Court directives, rehabilitation work should have been completed at least six months before water flowed on to the land in their village.
The unusual protest was highlighted by the media and brought widespread attention to the villagers sitting in water. The photograph of the shriveled, bruised feet of a woman protestor went viral on social networking sites.
Under extreme pressure to act, Chief Minister Shivraj Singh Chouhan deputed ministers Kailash Vijaywargia and Vijay Shah to visit Ghogalgaon village on Saturday and meet the agitators. The ministers had assured them that an early decision would be taken to protect their rights.
(
With inputs from PTI
)
Follow NDTV for latest election news and live coverage of assembly elections 2019 in Maharashtra and Haryana.
Subscribe to our YouTube channel, like us on Facebook or follow us on Twitter and Instagram for latest news and live news updates.