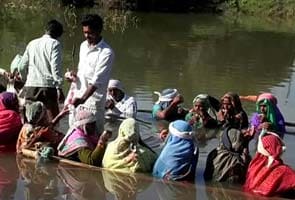 Bhopal:
Over a thousand people took out a rally in Bhopal today against the Madhya Pradesh government for allegedly not providing those affected by the five dam projects with adequate rehabilitation entitlement. People from over 400 villages from areas near Omkareshwar, Indira Sagar, Maheshwar, Maan and Upper Beda dams have camped in Bhopal's Neelam Park and will remain there till July 2.
"We have explained our demands to the Sub divisional magistrate and have asked him to communicate it to Chief Minister Shivraj Singh Chouhan. If by July 2 the Chief Minister does not meet us and gives into our demands of proper rehabilitation. Then the protest will intensify," Alok Agarwal, an activist with Narmada Bachao Andolan, told NDTV.
Last year in August, the displaced people from Omkareshwar dam area sat on a 17-day long "Jal Satyagraha", which they called off after assurance from the Chief Minister. In May this year, a 212 crore package was announced for the people affected by the dam. However, people were not happy with the compensation.
Under the deal, the displaced family would get Rs 2.5 lakhs as compensation, but they would have to vacate their houses by July 15. However, people feel they should be given at least six months' notice period. They also argued that the compensation of Rs 2 lakh per acre is much below the current market rates which will render farmers incapable of buying new land.
Even though, the people affected by the Omkareshwar dam are not happy with the compensation offered, this 'Jal Satyagraha' movement has given hope to the other villagers displaced by the other dam projects.
"I sat in the water for 17 days last year to protest. The government partly gave into our demands. So this time I am sitting on a hunger strike hoping that the government will now fulfil our demands," says 55-year-old Sakubain, who is protesting along with the rest.