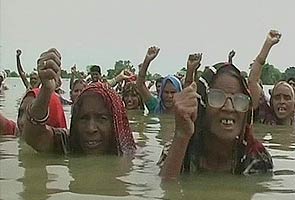 Harda:
A day after the victory of those sitting on a jal satyagraha in Madhya Pradesh's Khandwa district, the focus has now shifted to Harda where a similar protest is going on for the last 13 days. More than 50 villagers are sitting here in neck-deep water demanding the water level in the Indira Sagar Dam be brought down to 260 metres, and rehabilitation of affected people.
The state government has increased the water level in the dam to 262 metres, which threatens to inundate 19 villages. And while the Madhya Pradesh government has listened to the demands made by protesters in Khandwa, there have been no assurances to villagers in Harda. In fact, the state government plans to further increase the water level in the dam by .02 metres.
"The Chief Minister has not announced anything for us, just for the protesters in Khandwa. He has agreed to bring down the water level there, and to rehabilitate the people affected. Until they will accept our demands we will not leave, the chief minister has done discrimination with us" said one of the protesters.
"It is 13th day, and we are in continuous talk with the people. Their demands are of administrative level, therefore we are not able to assure them. Cheques are being given to them, we appeal to then to stop agitation," said Manjusha Rai, Sub-Divisional Magistrate, Harda.
The protest in Khandwa's Ghogalgaon village ended yesterday after 17 days when Chief Minister Shivraj Singh Chouhan agreed to lower the water level in the Omkareshwar dam, one of the key demands of the 51 protesters, sitting in neck-deep water. (
Read
)
Both Omkareshwar and Indira Sagar dams are built across the Narmada river and are part of the Indira Sagar Project. The water protests were launched with the help of the Narmada Bachao Andolan to demand proper rehabilitation for land that the villagers have lost and a reduction in the water level of the dam.
The unusual protest was highlighted by the media and brought widespread attention to the villagers sitting in water. The photograph of the shriveled, bruised feet of a woman protestor went viral on social networking sites.