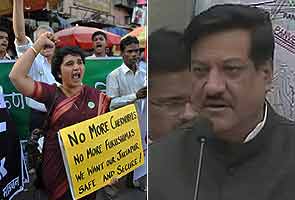 New Delhi:
Maharashtra Chief Minister Prithviraj Chavan today met Prime Minister Manmohan Singh against the backdrop of growing concern over the opposition by locals to the proposed Jaitapur nuclear power project.
Environment Minister Jairam Ramesh was also present at the meeting.
The meeting comes close on the heels of Chavan deliberating threadbare on the Jaitapur issue with his deputy Ajit Pawar, Home Minister R R Patil and Industries Minister Narayan Rane in Mumbai.
The state leaders are keen to know the Centre's mind on the 9,900 MW nuclear power project in the background of strong opposition by locals and death of a protester last week in police firing.
State government sources have already made it known that further decision on the project would take place only after discussions with the Centre.