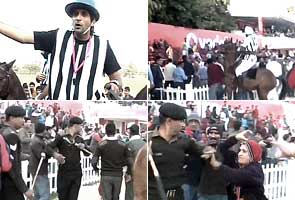 Jaipur:
In a bizarre incident on Wednesday, Army jawans clashed with a group of polo fans during a match at the Rajasthan Polo Club grounds in Jaipur. The incident happened when an Army team of the 61st Cavalry was playing against the Vodafone team.
Several spectators were allegedly upset with decisions of the match umpire, who they claimed was awarding numerous fouls to favour the Cavalry team. After hooting against the umpire, many spectators rushed on to the ground. Umpire Colonel Navjeet Singh then rode his horse close to the crowd to disperse the mob that had invaded the field. This led to a scuffle where some Army jawans allegedly pushed the angry crowd.
Polo is a part of Jaipur's royal tradition and for decades large crowd have invariably turned up to witness polo matches. But such an ugly incident has never been seen in the past.