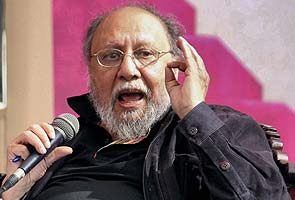 Jaipur:
As the police investigate sociologist Ashis Nandy's remarks on corruption among tribals and Dalits, the organisers of the Jaipur Literature Festival have signed an undertaking not to leave the city till the probe is complete. Despite a clarification and an apology by Mr Nandy, one of India's most famous academicians, the controversy over his remarks refuses to die.
Sanjoy Roy, producer of the festival, told NDTV, "We have also handed over a DVD recording of Mr Nandy's comments and a transcript that place them in context," Mr Roy said.
On Saturday, Mr Nandy said in a panel discussion at the festival, that, "Most corrupt people come from Other Backward Classes, Scheduled Castes and Scheduled Tribes."
There was much furore and Mr Nandy soon issued a clarification saying he was trying to make the point that corruption among Dalits was noticeable, while that of the rich was not.
"I also said that if people like me or Richard Sorabjee want to be corrupt, I shall possibly send his son to Harvard giving him a fellowship and he can send my daughter to Oxford. No one will think it to be corruption. Indeed, it will look like supporting talent. But when Dalits, tribals and the OBCs are corrupt, it looks very corrupt indeed," Mr Nandy said in his statement.
"As should be clear from this statement, there was neither any intention nor any attempt to hurt any community. If anyone is genuinely hurt, even if through misunderstanding, I am sorry about that, too," he added.
A police case was registered against Mr Nandy on Saturday by Rajpal Meena, Chairperson of the SC/ST Rajasthan Manch, amid a barrage of criticism from politicians.
Bahujan Samaj Party chief Mayawati demanded Mr Nandy's arrest. "Ashis Nandy should seek an apology immediately. Our party strongly condemns his remarks and demands that the Rajasthan government immediately file a case under the SC/ST Act and other stringent sections and send him to jail," she said in New Delhi.
Meanwhile, noted Dalit activist and writer, Kancha Iliah, who was present in the audience when Mr Nandy made the remarks, today spoke in his defence. "Ashis Nandy made a bad statement with good intentions. The controversy should end here," Mr Ilaiah said.
Election Results for Lok Sabha Election 2019 will be out on May 23. Get the latest election news and live updates on ndtv.com/elections. Catch all the action on NDTV Live. Like us on Facebook or follow us on Twitter and Instagram for news updates from each of the 543 parliamentary seats for the election 2019