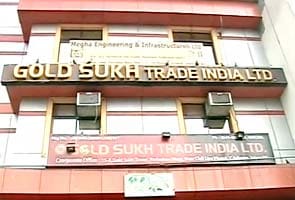 Jaipur:
A company called Gold Sukh has allegedly swindled over 1.75 lakh investors of crores of rupees and shut shop all of a sudden. The company that operated out of Jaipur had promised a 150 per cent increase in investments in 18 months.
Though there are no clear estimates, it is believed that over Rs 200 crore has been swindled. The company ran its fraud in 27 cities across the country. The four directors of this company have vanished.
"They used to say give us Rs 23,000 and We will give you Rs 23 lakh in two years. But when I came here I found nobody and the place was locked," said one angry investor.
"I never went to Gold Sukh. They came to our home and told us to invest. I had invested money for my daughter's wedding and they assured me nothing will happen," said another.
The Jaipur police has now formed special teams to catch the fraudulent foursome: Manvendra Singh, Pramod sharma, Narendra singh and Mahendra, who ran this company and are now trying to flee the country.
"There is information that they have left the country, but we will arrest them where ever they are," said BL Soni, Commissioner of Police, Jaipur.
But it's not just Jaipur alone. The scam extends to 27 other cities where Gold Sukh was being run on promises that people's money was being doubled by investing in gold.