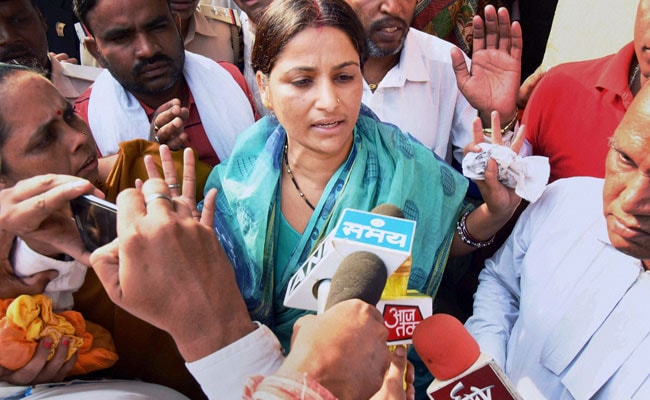 Gaya:
A court in Bihar today rejected the bail petition of suspended JD(U) lawmaker Manorama Devi, mother of the prime accused in Aditya Sachdeva murder, in a liquor bottle recovery case.
District and Sessions Judge Sajal Mandalwar rejected Manorama Devi's bail petition.
On May 24, the judge had sought the case diary and proceedings of lower court in connection with the bail plea of the suspended JD(U) lawmaker. The Additional Chief Judicial Magistrate court had rejected her bail plea on May 19.
Manorama Devi, the Bihar lawmaker who had gone into hiding after an arrest warrant over a liquor stash found inside her home, she surrendered on May 18. Her son Rocky Yadav was arrested for a road rage killing earlier this month.
Manorama Devi, a legislative council member of the ruling JD(U) or Janata Dal-United, has been charged with violating a new prohibition law in the state. Liquor bottles were found at her house in Gaya when the police were searching for her son Rocky, who had run away after allegedly killing a teenager for overtaking his Range Rover earlier this month.
The suspended lawmaker's counsel prayed for her bail on the ground that she neither drinks nor was caught drinking by the police during the raid.
Meanwhile, Additional Chief Judicial Magistrate Om Sagar rejected the bail petition of Teni Yadav, the cousin of Rocky Yadav, named in the FIR in Sachdeva murder case.
Teni was allegedly travelling in the SUV with Rocky and Manorama Devi's bodyguard Rajesh Kumar, when Aditya was shot dead in Gaya on May 7. Teni had surrendered on May 16.
(This story has not been edited by NDTV staff and is auto-generated from a syndicated feed.)