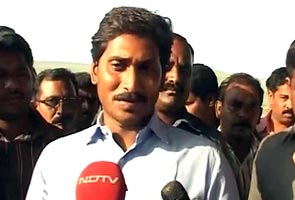 Hyderabad:
Jagan Mohan Reddy, who is campaigning for the Andhra Pradesh by-election next month, received CBI officials at his home in the Yemmiganur town of Kurnool district, around 300 km from Hyderabad. They delivered to the politician summons issued by a court last week which make it necessary for him to appear on May 28 in court to answer charges of corruption.
Mr Reddy has been directed to appear in person or through his lawyer before the principal special judge for CBI cases in Hyderabad at 10.30 a.m. on May 28. He recently told a television channel that he would choose to attend the hearing himself.
Mr Reddy's father, YSR Reddy, died in a helicopter crash in September 2009, while he was chief minister. The CBI says that YSR offered favours and licenses to companies that invested in Jagan Mohan's businesses.
The Andhra Pradesh High Court in August last year ordered the CBI to investigate the source of Mr Reddy's vast wealth.