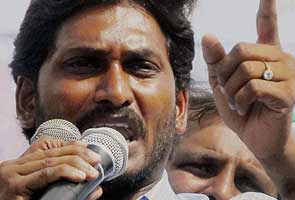 Hyderabad:
Jagan Mohan Reddy, chief of the YSR Congress, has been arrested by the Central Bureau of Investigation (CBI) in connection with a disproportionate assets case against him. The arrest came after three days of interrogation at Hyderabad's Dilkusha Guest House, where Mr Reddy will be held tonight. (
Read: Who is Jagan Mohan Reddy?
)
A CBI spokesperson said the agency had arrested Mr Reddy at 7.15 pm. Mr Reddy's wife Bharathi, mother Vijaylakshmi and sister Sharmila sat on dharna outside the guest house in protest against his arrest, but were taken away by the police. Mr Reddy's party has called for a state-wide bandh on Monday. (
Read: YSR Congress' statement on Jagan Mohan Reddy's arrest
)
"YS Rajasekhara Reddy (Jagan's father) won 33 Lok Sabha seats for Congress in 2009. Publicly YSR declared he would work to make Rahul Gandhi Prime Minister in 2014. So her (Sonia Gandhi) son should become PM and my son should suffer in jail," questioned Mr Reddy's mother.
Soon after his arrest, Mr Reddy reportedly told party leaders who had come to meet him that his supporters must be calm and not resort to any violence keeping in view the by-elections to 18 seats on June 12. The YSR Congress is contesting all 18 seats. (
Timeline: Jagan Mohan Reddy's battle for survival
)
"It is a Congress-TDP conspiracy to arrest Jagan. We will peacefully protest against his arrest. Jagan's mother will lead the agitation," Ambati Rambabu, YSR Congress spokesperson said after Mr Reddy's arrest. Political commentators say Mr Reddy's arrest and an emotive appeal from his mother might just turn into an electoral advantage for him in the by-elections. (
Read: Congress reacts with caution to Jagan's arrest
)
The government fears violence and security is high all over Andhra Pradesh. There are prohibitory orders in place in Mr Reddy's district Kadapa and in several other places in the state. Many YSR Congress leaders have reportedly been placed under virtual house arrest and are not being allowed out. Hyderabad Police Commissioner Anurag Sharma has said that the security situation is under control.
In Vijaywada, YSR Congress leaders and workers staged dharnas at different places in the city and threatened to call for bandh in the city on Monday. Tension prevailed in the city following Jagan's arrest and some of the YSR Congress party leaders were picked up as a precautionary measure, police said.
Mr Reddy, who is the Lok Sabha MP from Kadapa, was denied anticipatory bail by the Andhra Pradesh High Court on May 25.
PTI has quoted CBI officials as saying that Mr Reddy was questioned for three consecutive days and that his answers to certain investments made by a few companies to Sakshi Television and Jagriti publications, owned by him, were not convincing. "Some routing of funds have been detected from tax havens like Mauritius and Isle of Mann, indicating that there were quid pro quo investments in his TV channel and publication by some companies which were given land in the much sought after Andhra Pradesh Industrial Development Park," the CBI officials were quoted as saying.
Jagan Mohan Reddy arrived at the guest house, the CBI's camp, this morning, as he had on Friday and Saturday, surrounded by supporters. In an apparent show of strength, he brought along Congress MP Sabbam Hari and Congress MLAs Nani and Ranga Rao. His close associate and financial advisor and accused number two in the case, Vijay Sai Reddy, had arrived a little before him along with Jagan Reddy's lawyer Ashok Reddy.
The YSR Congress chief has accused the ruling Congress and the main opposition Telugu Desam Party (TDP) of wanting to "eliminate the third force" in Andhra Pradesh, and of wanting to postpone the June by-elections. While he was being interrogated over the last three days, hectic political activity was taking place behind-the-scenes. The YSR Congress party says several Congress and TDP MLAs have got in touch with it and are ready to jump ship.
Yesterday, Venkata Sujay Krishna, Congress MLA from Bobbili joined the YSR Congress. Ranga Rao has also said he has joined the YSR Congress party.
Mr Reddy is the son of former Andhra Pradesh Chief Minister YS Rajasekhara Reddy, who died in a helicopter crash in 2009. After his father's death he split with the Congress and formed his own party, the YSR Congress.
The CBI alleges that while YSR was in office, he conspired with other ministers to influence entrepreneurs to invest in his son's companies; in return, they were granted licences and other permissions required for their businesses.
The CBI inquiry into Mr Reddy's business empire and the source of its funds was ordered by the Andhra Pradesh High Court in August 2011.
The corruption case against Mr Reddy could affect not just his political fortunes, but that of several other leaders from the party who quit the Congress in a huff. One of those leaders, a minister named M Venkatramana, was arrested after seven hours of interrogation on Wednesday. Mr Venkatramana has been remanded to judicial custody till June 7. Five other Congress ministers are also being studied for possible collusion.
Minister Mopidevi reported sick this morning and was shifted to Care Hospital.
(
With PTI inputs
)