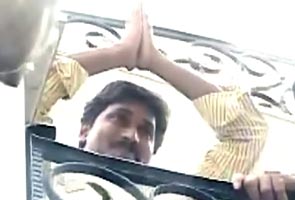 Hyderabad:
As the Congress closes ranks and tries to dismiss the Jagan factor in Andhra Pradesh, the rebel Reddy is in Kadapa district with his mother, Vijayalaxmi, and will visit the YSR samadhi there to pay respects to the former chief minister. Jagan Mohan Reddy quit the Congress and as the Kadapa MP on Monday.
(Jagan's resignation letter to Sonia: Full Text)
The party has a tricky task ahead and leaders insist that Jagan's exit will have no impact on the Congress in Andhra Pradesh. Consolidation is key as the party works out a new cabinet that will please as many people as possible. The crucial cabinet formation exercise will take place on Wednesday and there are fears that those left out will gravitate towards YSR's son.
(Who is Jagan Mohan Reddy?)
Jagan has publicly asked the MLAs who support him not to resign from the Congress. He would need 53 MLAs to split the party and at the moment sources in his camp say they do not have the support of more than 30. They do hope that number will increase after December 1.
Because of Jagan's pro-unified-Andhra stance, only one of the 50-odd Congress MLAs from the Telangana region supports him. His support base is essentially drawn from the other two regions.
If Jagan were to manage to the split the party, the Congress could then look to the Prajya Rajyam Party (PRP), Telangana Rashtra Samiti (TRS) and the Majlis-e-Ittehadul Muslimeen (MIM) for outside support to the government.
There was talk of Chiranjeevi's Praja Rajyam Party, with its 18 MLAs, filling the Jagan void, but the actor-turned politician has decided to stay out of the government for now, with talks falling through on ministerial berths. Sources said Chiranjeevi wanted four ministries, but the Congress was loath to give him that many.
There are also doubts over whether Chiru can deliver the 18 MLAs en bloc. At least four of them are openly with Jagan.
The next bit of action is now expected on Wednesday, when the new Andhra Pradesh cabinet of Kiran Kumar Reddy will be sworn in. Jagan will be watching the proceedings from Kadapa district, where he shall remain on Tuesday and Wednesday.