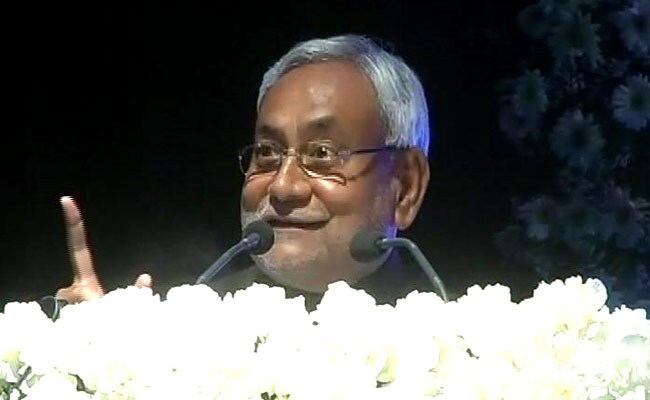 Patna:
For the second day in a row, Bihar Chief Minister Nitish Kumar made public his displeasure over two union ministers of the BJP who have been accused by the opposition of making attempts to trigger communal polarisation in the state.
"There are some people who think that causing tension in the society will bring in electoral dividends. We believe in peace and harmony. We are not concerned so much about votes as about betterment of voters," Mr Kumar said at a function in Patna.
The opposition RJD and Congress have repeatedly targeted the chief minister, accusing him of being lenient against leaders from the BJP, a party Mr Kumar allied with after walking out of the mahagathbandhan last year.
Without naming union minister Giriraj Singh, who had claimed that a man in Darbhanga was killed last week for naming a square after the Prime Minister, Mr Kumar said the reason cited was wrong.
"There was a recent incident in Darbhanga where a BJP worker's father was hacked to death. On hearing reports that it was linked to the naming of a public square after Prime Minister Narendra Modi, I enquired from the DGP and was told that the reports were false and land dispute was behind the murder. Deputy CM Sushil Kumar Modi posted a tweet stating the same. Yet we heard all sorts of things in the aftermath," the chief minister said.
Mr Kumar's remarks came against the backdrop of alleged inflammatory statements made by Union Minister Giriraj Singh who had visited the village and was caught on camera inciting a mob to shout slogans against a senior police officer in Darbhanga.
"Recently, a communal clash erupted in Bhagalpur after a procession was taken out without permission and the action we took is for everybody to see," Mr Kumar said, referring to a police case in which Union Minister Ashwini Kumar Choubey's son Arijit Shaswat has been named for leading the procession that allegedly raised provocative slogans.
In Delhi, Mr Choubey claimed that the Bhagalpur administration was "inefficient" and had dragged his son's name to hide its failures.
But by making his stand clear on the incidents in Darbhanga and Bhagalpur, the chief minister seems to have reinforced the impression that he is the boss and won't tolerate any attempts to breach social harmony.