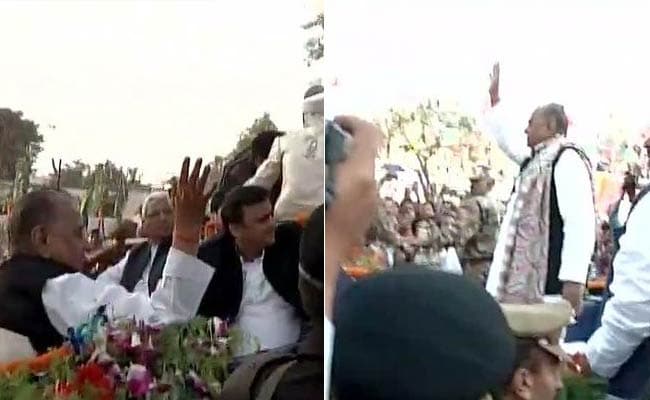 New Delhi:
Senior Uttar Pradesh minister and Samajwadi Party leader Azam Khan, known for his controversial comments, has just made a significant addition to his collection.
Faced with criticism over the extravagant celebrations Mr Khan has organised in his home town Rampur for his party chief Mulayam Singh Yadav, the minister said, "
Taliban ne diya, Dawood ne diya. Saara Talibaan ka fund hai
" (The Taliban gave, Dawood gave. It's all funded by the Taliban.)"
Mr Khan's sarcastic reply to who has funded the Rampur bash for Mulayam Singh's 75th birthday is likely to cause much outrage. Already, the BJP has questioned the Samajwadi Party.
Later, while addressing party supporters, Mr Khan said, "Don't the poor have a right to celebrate their leader". In seemingly a reference to Prime Minister Narendra Modi, he added, "Why can't the public assemble to celebrate their leaders, unlike some leaders who take crowds for foreign visits".
Its state leader Vijay Bahadur Pathak said, "His birthday is being celebrated with government money. Water is not available in schools for children, but they cannot think of that."
Mr Yadav, who arrived in Rampur this afternoon, took a ride atop a Victorian buggy, specially imported, through the town, which looks like Christmas came early. Bunches of red and white balloons line spruced-up roads along with big banners wishing Mr Yadav. Dividers have a new lick of paint. A 100 "welcome gates" have been put up.
Mulayam Singh will also cut a 75-feet-long cake at midnight after attending a performance by popular singers Hans Raj Hans and the Sabri brothers. His son and Uttar Pradesh chief minister Akhilesh Yadav also joined the celebrations, which will continue on Saturday.
"All departments are working to ensure it is a grand welcome," said Rampur's district magistrate, CP Tripathi.