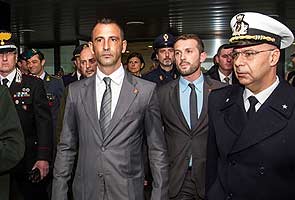 New Delhi:
The Supreme Court has ended its ban on foreign travel for the Italian ambassador to India, a move that was prompted when Rome had refused to send back two marines to face murder charges in Delhi.
Italy has, however, objected to the government's decision that the case will be investigated by the National Investigation Agency (NIA). It had been handled so far by the Kerala police.
Airports had been asked to prevent Daniele Mancini, the envoy, from leaving India because he had assured the court in writing that the marines would return after a four-week break in Italy.
Rome reneged on its commitment, precipitating a diplomatic crisis. Then, on March 22, in a dramatic turnaround, Italy said the marines would return to stand trial. They landed in India just a few hours before their four-week deadline expired.
Their return came after India agreed that Massimiliano Latorre and Salvatore Girone can serve prison time in Italy, if they are convicted, and that they will not face the death penalty.
The Supreme Court has asked the government to explain what action it is taking to set up a special fast-track court to try the marines swiftly, an assurance made by India to Rome. In January, the Supreme Court had transferred the case out of Kerala.
Italy is concerned with the assignment of the case to the National Investigation Agency because the agency is empowered to deal with maritime piracy and terrorism, and serious charges can lead to a call for the death penalty.
The marines were guarding an Italian tanker when they shot two fishermen from Kerala at sea in February last year. The naval officers say they mistook the fishermen for pirates.
They are staying at the Italian embassy in Delhi and report once a week to a local police station.