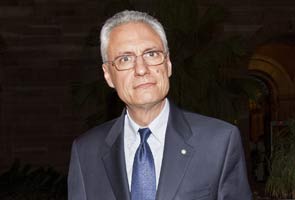 New Delhi:
The Supreme Court today ruled that its ban on Italian Ambassador Daniele Mancini leaving India will continue at least till April 2 when it next hears the case of Rome's refusal to send back two marines to face trial for shooting a pair of fishermen.
"We don't trust the envoy anymore... we did not expect him to behave like this," said the judges about Daniele Mancini, who had assured the court in writing that if the marines were allowed to go home in February, they would return in a month to face murder charges.
Last week, Italy informed India that it would renege on its commitment to send the men back, delivering a massive diplomatic crisis.
Italy has sent a note to New Delhi challenging the Supreme Court order against its envoy. The note says that the Vienna Convention on Diplomatic Relations guarantees that diplomats cannot be arrested or detained. (
Read note
)
But India says that Mr Mancini willingly submitted himself to the jurisdiction of its top court by standing guarantee for the marines' return.
"A person who comes to court and gives an undertaking has no immunity," said Chief Justice of India Altamas Kabir.
The judges, however, pointed out that the four-week deadline for the marines to return to India has not expired. "There is still time for them to come. Strictly speaking they have not still violated our order. It is a case where one government is communicating to another government and we have nothing to do," they said.
The marines were guarding an Italian tanker in February last year when they shot dead two fishermen off the Kerala coast in February. They say they mistook the fishermen for pirates.
Italy insists India does not have jurisdiction because the shooting took place in international waters. India disagrees.