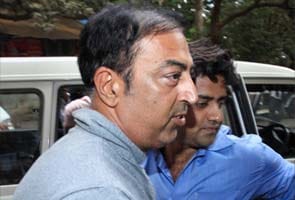 Chennai/Mumbai:
Actor Vindoo Dara Singh was produced before a court in Mumbai on Friday which extended his remand till the 28th.
Vindoo, who was arrested in connection with the spot-fixing scandal in the on-going season of the Indian Premier League (IPL), has told the Mumbai Police that he bet on matches on the behalf of Gurunath Meiyappan, the son-in-law of BCCI chief N Srinivasan, sources claimed. Vindoo has also reportedly told the police that Mr Meiyappan has lost over Rs 1 crore in betting. (
Track live updates
)
Sources in the Chennai Super Kings franchise, however, have claimed that Mr Meiyappan is not a formal part of the Chennai franchise. Mr Meiyappan's IPL accreditation though says 'Team Owner', according to sources.
Meanwhile, N Srinivasan has reportedly refused to quit as the BCCI president, saying he has done no wrong. "I have done nothing wrong. There is no question of my resigning. My conscience is clear," he told NDTV. Mr Srinivasan added that this is an attempt to target him through his son-in-law. (
Read
)
Reacting to the scandal, Sports Minister Jitendra Singh said on Friday, "These are moral issues, people need to think for themselves."
Mr Meiyappan was arrested late on Friday night by the Mumbai Police for his alleged involvement in betting during the IPL. He was questioned for nearly two hours at the Crime Branch office on Friday. Sources claim that during his questioning Mr Meiyappan admitted to having placed bets, but blamed Vindoo for it. Mr Meiyappan said he placed bets at the insistence of Vindoo, claimed sources.
Sources claim he has not yet been confronted with Vindoo.
Police sources say that they have also intercepted several "friendly" phone conversations between the actor and Mr Meiyappan. Immediately after one of these calls, the police sources allege, Vindoo called up a bookie.
Vindoo had also named some Bollywood personalities, according to sources. Vindoo was arrested on Tuesday. He is accused of having links with bookies allegedly involved in spot-fixing. He has been charged with cheating and forgery and will be in police custody till today.