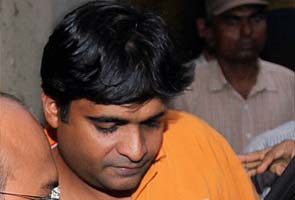 New Delhi:
The Indian cricket board's spot-fixing report - allegedly giving a clean chit to board chief N Srinivasan's son-in-law Gurunath Meiyappan and Rajasthan IPL team owner Raj Kundra - has come under fire with the Mumbai Police accusing the probe panel of going ahead with their report without taking police investigations into account.
The panel's report, which is being criticized by many as "eyewash", said it found no evidence against the entities it was investigating - Mr Meiyappan and Rajasthan Royals team co-owner Raj Kundra. Sources say the report also cleared the Chennai Super Kings owned by Mr Srinivasan's India Cements.
Mr Meiyappan was cleared by the probe panel, comprising two former High Court judges, reportedly after the Mumbai Police refused to depose before the IPL probe panel without court orders. The probe report, say sources, regretted the lack of cooperation from the Mumbai Police.
But the Mumbai police have hit back, accusing the probe panel and the BCCI, or Board for Control of Cricket in India, of sitting on their query. NDTV has copies of letters between the BCCI and the police.
Joint Commissioner of Police (Crime), Himanshu Roy, said: "We had written to the BCCI over a month ago, pointing out that only the court can ask us to depose and asking under what provision we could depose before the panel. But the BCCI never responded."
Amid questions about the "clean chit", the BCCI has said it will reopen the case if the police have proof.
BCCI vice president Niranjan Shah told NDTV that if the police investigation finds Mr Meiyappan or Mr Kundra guilty, the board will act on it. Sources say the IPL governing council and the BCCI's top decision-making body, the Working Committee, will meet on Friday. Mr Srinivasan is likely to attend the meeting.
According to sources, Mr Srinivasan is banking on the probe report to enable his return to a post he had desperately clung to until being forced to "step aside" in June.
Mr Srinivasan had said that the probe report would be final and binding. He had also denied any knowledge of his son-in-law's alleged role in betting.
Several board members sought Mr Srinivasan's resignation after his son-in-law was arrested on charges of gambling, cheating, and conspiracy in May. After initially refusing to quit, he had finally agreed to step aside at a reportedly stormy emergency meeting in June.
Mr Srinivasan's mentor and former BCCI chief Jagmohan Dalmiya was appointed the interim president to manage the day-to-day affairs of the board.