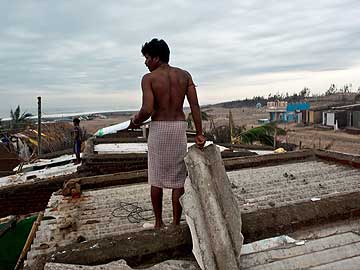 Bhubaneswar:
International funding agencies, the World Bank and the Asian Development Bank, have assured a financial assistance of USD 313 mn to Odisha government for restoration and rehabilitation activities in cyclone Phailin hit areas.
Representatives of WB and ADB met Chief Minister Naveen Patnaik in Bhubaneswar last evening and told him about their assistance for the calamity hit people and certain long term measures to mitigate the disaster.
Accepting Odisha's proposal of constructing an additional 162 cyclone shelter houses as they helped in providing safe stay for people after evacuation from the coast, WB team agreed to provide assistance of USD 55 million for the purpose, the sources said.
The WB also agreed to finance USD 153 million for construction of pucca houses within five kilometer from the coast in Ganjam and Puri districts and in the bank of Chilika Lake, besides slum development proposals of Berhampur town.
The West Bengal team comprising its operation advisor Michel Hanery, and Senior Disaster Risk Management Specialist Deepak Singh have also promised Patnaik to help Odisha undertake mangrove plantation along the coast under Integrated Coastal Zone Management Programme (ICZMP).
Narahari Rao, Deputy Country Director ADB, and Harish Verma Senior Project Officer, ADB, on their part assured the state government that they would be providing USD 105 million for installing cyclone-proof power infrastructure (at the expenditure of 70 million USD) and strengthening of embankments (35 million USD) in cyclone prone areas in Odisha.
Following the assurances, Patnaik has asked the finance department to expedite the process so that work in the cyclone hit area starts early.
Aparna Bhatia, Director, Department of Economic Affairs, and S P Vasudeva of National Disaster Management Authority, also held discussion with the state government for undertaking restoration and rehabilitation activities in the cyclone Phailin and flood hit areas of the state.