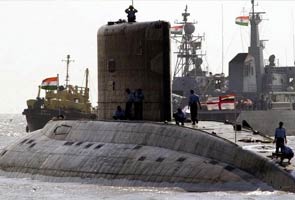 New Delhi:
The loss of the
INS Sindhurakshak
, considered India's most advanced diesel-electric submarine, will hit the Indian Navy hard. It had just spent Rs 480 crore to upgrade the 16-year-old submarine with an improved weapons system and expected the boat to serve another 10 years. (
Caught on camera: explosions on INS Sindhurakshak
)
The submarine has been gutted in an explosion and fire last night and 18 people are feared killed. Rescue and salvage operations are on. (
Read
)
The destruction of the submarine will affect the Navy's operational preparedness. The Indian Navy needs at least 20 submarines, has been aiming for more than 30, but has only 14, including the Sindhurakshak and the INS Sindhuratna which was docked close by and has reportedly sustained some damage in the explosion on board the other vessel.
(Navy's full statement)
Both subs were docked at the high-security Navy dockyard in Mumbai.
There has been no new submarine induction in the Indian Navy in 16 years. (
Read: A tragedy & a huge setback for the Navy
)
The Sindhurakshak was one of 10 kilo-class submarines constructed in Russia's shipyards for the Indian Navy from 1985 to 2000. Kilo class vessels can travel at around a maximum 20 miles per hour at a depth of around 900 feet.
This January, it was handed over to India after nearly two years of overhaul and refitting in Russia.
The 2,300-tonne submarine was upgraded with an improved electronic warfare systems, control system and integrated weapon control system. It had the latest variant of a Russian-made submarine-specific cruise missile system capable of hitting targets more than 150 miles away.