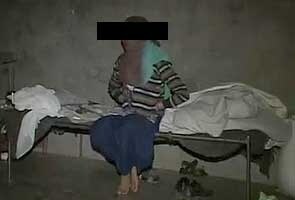 Jammu:
As the pitch for tougher laws in rape cases and special security for women gains momentum across the country in the aftermath of the brutal Delhi gang-rape case, reports of more sexual assault cases are coming in from other parts of the country.
On Saturday night, an 18-year-old girl was allegedly raped by a driver at Amghrota on the outskirts of Jammu. According to the statement of the victim, the driver and his friend forcibly took her to a nearby forest and raped her. Both the men have been arrested.
Recounting her horror story, the girl said that the rapist had been stalking her for the past few years and on Saturday night forcibly took her to a forested area, where she was raped by him and assaulted by his friend. "I wanted to commit suicide after the incident as I felt I have nothing left in life. But, as I was escaping from them, I came across some policemen at a check-post who asked me what happened. When I explained the situation to them, they assured me that they would safeguard me and took me to the police station," said the girl.
The girl's distraught mother said, "I am her mother. Only I can understand what has happened with my daughter."
A medical examination of the girl has revealed injury marks. Ratan Singh, the Station Head Officer of the area where the incident took place said, "We lodged an FIR under section 376. We then visited the spot. Within 12 hours, we have completed all the formalities, traced and arrested the culprits."