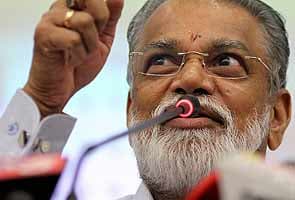 Sriharikota:
India's second moon mission will depend on Russia's decision after a failed inter-planetary mission with China, ISRO chairman said on Sunday, a day when the Indian space agency launched its 100th mission.
"Russia is reviewing its inter-planetary missions after a failed joint mission with China. For Chandrayaan-2, Russia has to provide the lander.
"India will build the lunar orbiter and rover. Russia has said they would come to us with a decision after their review," K. Radhakrishnan told reporters.
The Chandrayaan 2 is planned for 2014 with India's heavier rocket - Geosynchronous Satellite Launch Vehicle (GSLV).
Mr Radhakrishnan said Indian Space Research Organisation (ISRO) will ready the rocket and also the lunar orbiter and rover.
While reports are there that the Chandrayaan 2 project may get delayed to 2016, Mr Radhakrishnan did not comment on it.
For its 100th mission, ISRO on Sunday launched a Polar Satellite Launch Vehicle-C21 carrying SPOT 6, a 712-kg French earth observation satellite, and Proiteres, a 15-kg Japanese micro satellite, from the Satish Dhawan Space Centre in Sriharikota in Andhra Pradesh.
ISRO is now eagerly looking forward to its Mars mission planned for next year.
Ruling out that India was in race with China for the Mars mission, Mr Radhakrishnan said: "Mars mission is a challenging one where we will develop new technologies."
He said ISRO was studying the Mars mission since August 2010 and the union cabinet had recently approved the project.
He said the Mars mission was much more challenging than Chandrayaan 1 mission since it required taking the orbiter from the initial orbit into the Mars orbit as the distance to be covered was huge.
Mr Radhakrishnan said the other major challenge was tracking the satellite with deep space network.
He said to realise the Mars mission next year, ISRO centres were working hard to perfect the GSLV rocket technology including the cryogenic engine technology.
On the expansion of facilities at the space port Sriharikota, Mr Radhakrishnan said ISRO had decided to set up a Multi Object Tracking Radar to track the space debris and to time its rocket launches precisely.
He said ISRO was also planning to have a second vehicle (rocket) assembly building to facilitate increasing launch frequency.
He said ISRO would build two more communication satellites - GSAT 15 and GSAT 16 - to augment its transponder (transmitters that receive and send signals) capacity.