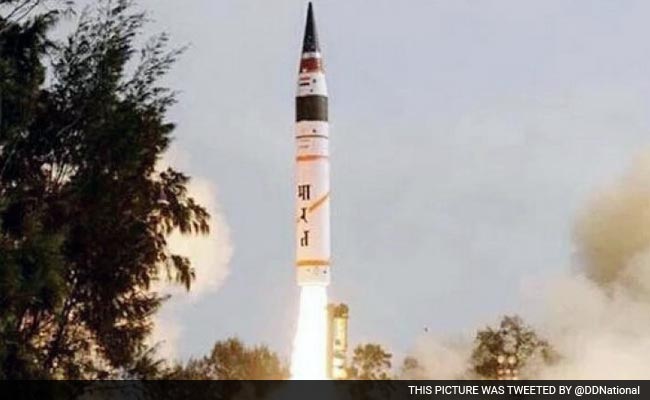 Islamabad:
India's recent test-firing of an anti-ballistic missile system may give it a "false sense" of security but could lead to "unexpected complications", Pakistan's Advisor on Foreign Affairs Sartaj Aziz has warned.
Expressing serious concern over the May 15 successful test-firing of indigenously developed supersonic interceptor missile capable of destroying any incoming ballistic missile from a test range off Odisha coast, Mr Aziz said such actions are contrary to India's policy of a friendly neighbourhood.
The criticism came in yesterday's Senate meeting, the Express Tribune reported today.
"Massive conventional nuclear and missile development programmes pursued by India are now leading to nuclearisation of the Indian Ocean," Mr Aziz said in government's response to the Senate.
"The development of an anti-ballistic missile system (ABM) may give India a false sense of security, leading to unexpected complications. Such actions are also contrary to the policy of a peaceful and friendly neighbourhood, which our prime minister (Nawaz Sharif) has repeatedly espoused," he said.
Pakistan has serious concerns over these developments and will take "all necessary measures to augment its defence capabilities", Mr Aziz said.
Senator Javed Abbasi of the ruling Pakistan Muslim League-Nawaz (PML-N) said the "balance of power has been disturbed in South Asia the way it was disturbed following India's nuclear tests in 1998".
"I'm not aware of our military's response, but I suggest that the security establishment take note of the Indian interceptor missile test and devise a strategy accordingly," he said.
"The (interceptor missile) test has increased military threats from India," said Senator Mushahid Hussain Sayed of opposition Pakistan Muslim League Quaid-e-Azam (PMLQ).
Referring to the upcoming meeting of the Nuclear Suppliers Group (NSG) in Seoul, Mr Sayed said ground was being prepared for India's elevation to the NSG.
"This is our diplomatic failure. The Indians are encircling us from all sides. Even our immediate neighbours, like Afghanistan and Iran, have gone to India. It's a result of our failed diplomacy and traditionally passive foreign policy," he added.
Pakistan People's Party (PPP) Senator Farhatullah Babar blamed flawed security policies for the foreign policy debacle.
"Isn't it a reality that we protected non-state actors to further our security agenda? Our age-old policy of harbouring non-state actors is taking toll on us," he said.
Chairman of the Senate Raza Rabbani said a clear strategy must be devised to respond to the situation created by India's missile test.