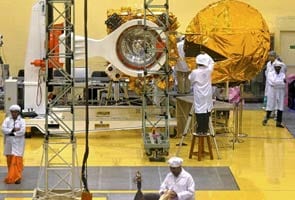 New Delhi:
The launch of India's maiden mission to Mars has been postponed by a week; it is now to be launched in November if weather permits. Ironically, rough weather in the Pacific Ocean has forced this decision.
The Mangalyaan was to be launched as early as October 28, but it will now definitely miss this first opportunity, the Indian Space Research Organisation or ISRO has confirmed.
The mission can be launched anytime until November 19, 2013, so all is not lost.
The good news is that India's satellite for its maiden mission to Mars and the rocket - the Polar Satellite Launch Vehicle (PSLV) - that will hoist it into space are ready. The bad news is that weather in the Pacific Ocean has slowed things down, K Radhakrishnan, ISRO chairman told NDTV.
India will launch an unmanned scientific satellite to Mars in a mission that has cost Rs 450 crore to study the thin Martian atmosphere.
For the first time, India is deploying two special ships hired from the Shipping Corporation of India, SCI Nalanda and SCI Yamuna, and these will monitor the health and movement of India's rocket several minutes after the launch when it is coasting in the sky over the Pacific Ocean. This is a special requirement for the Mars mission.
Mr Radhakrishnan says the movement of Indian ships in the Pacific has been slowed down due to the bad weather and a decision on the date of the launch can possibly be taken on October 22, when he says the second ship reaches its destination in the Pacific Ocean.
The Mangalyaan satellite has been fuelled and now the spacecraft is being mated with the rocket on India's space port, Sriharikota. Both the machines, according to Mr Radhakrishnan, are ready to meet the next launch opportunity.
At this time of the year, the weather at Sriharikota is always a big worry since this is the cyclone season in the Bay of Bengal. But for the first time, ISRO is forced to worry about weather in faraway Pacific to arrive at an opportune launch window for India's first inter-planetary mission.