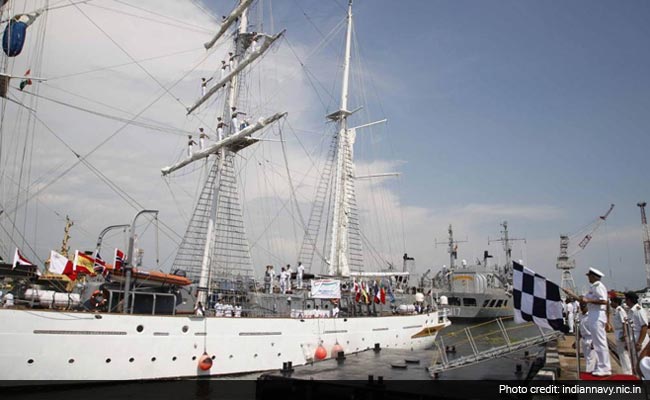 London:
Indian Navy's sail training ship INS Tarangini will participate in an annual race in European waters and dock at a UK port where its crew will share professional experience with their British counterparts.
Its voyage to 17 ports in 14 countries will showcase India to the world and demonstrate the Indian Navy's global reach.
The ship will touch the south coast of England's Plymouth on Wednesday where its crew will visit Britannia Royal Naval College, play sporting fixtures, interact and share professional experiences with their UK Royal Navy colleagues.
To participate in the 'Tall Ship' race from Kristiansand in Norway to Aalborg in Denmark, the ship will then depart for Kristiansand on Saturday.
During its three-day stay in the UK, two mid-shipmen of the Royal Navy will also embark the ship for its next leg to Norway, the Indian High Commission here said in a statement.
Tarangini will also participate in associated sail events such as Sail Rostock and Sail Bremerhaven in Germany and Sail Amsterdam in the Netherlands as part of Sail Training International where about 300 sail ships of various sizes globally are expected to participate in this year's events.
This year's 'Tall Ship' races will be conducted primarily off the coast of the United Kingdom, Norway, Denmark, Germany and the Netherlands.
The theme for the voyage, codenamed 'Lokayan 15', has been chosen as 'Tacking for a Broader Reach'. It will travel approximately 27,358 kms under sails as part of an arduous voyage through the Red, Mediterranean and North seas.
Tarangini was the first Indian Naval Ship to circumnavigate the globe in 2003-04. Since then, it has sailed to 'The Great Lakes' in Canada for races and also participated in the European Tall Ship Races. It won The Royal Thames Yacht Club Challenge Trophy in 2005 and stood third in Youth Sailing Division in 2007 in the US.
Apart from these races, the ship sails extensively across the Indian Ocean region for the purpose of providing sail training experience to the Officer Cadets of the Navy.
Sail training also serves to impart the time-tested values of courage, camaraderie, endurance and esprit-de-corps among the budding naval officers.
'Tall Ship' is a term often used generically to describe large, classic sailing vessels. The first Tall Ship event was organised in 1956, where the foundation of Sail Training International was mooted.
INS Tarangini is a three-masted barque, commissioned in 1997 as a sail training ship for the Indian Navy. It was constructed in Goa by British naval architect Colin Mudie and launched in 1995.