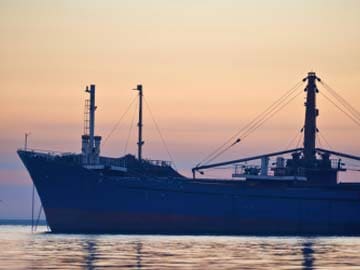 New Delhi:
In the ninth mishap involving Indian Navy's warships in the last seven months, an amphibious vessel was damaged when it ran aground off the coast of Vishakhapatnam.
An inquiry has been ordered by the Navy to ascertain the reasons for the mishap last week, sources in the Navy said today.
The incident was the eighth involving a Naval warship since the sinking of the submarine INS Sindhurakshak in Mumbai harbour in August last year in which all 18 personnel on board were killed.
The Magar-class Landing Ship Tanker(LST) ran aground off the coast of Vishakhapatnam and suffered damages, the sources said.
A Navy spokesperson refused to comment on the issue. The LSTs are used by the Navy for amphibious warfare.
Only two ships of the class were designed and built by Hindustan Shipyard Limited in partnership with Garden Reach Shipbuilders and Engineers.
The ships are stationed at the naval base in Vishakhapatnam.
They can operate two medium-lift helicopters, which are primarily meant for "inserting" a small team of Special Forces (marine commandos).
There have been several incidents in the recent past amid claims by Navy Chief Admiral DK Joshi that the force's record in terms of safety was "not that bad" when compared to other navies in the world.
After the sinking of the INS Sindhurakshak, one of the mishaps involved INS Betwa which was damaged after probably hitting some underwater object.
The INS Sindhughosh, another Kilo Class submarine, had a close shave after it entered the Mumbai harbour in a low tide phase.
India's leading minesweeper, the INS Konkan, that was undergoing repairs in Vizag, caught fire and suffered major damage to its interiors.
The Pondicherry-class minesweeper was getting a refit at a dry dock when the incident occurred.