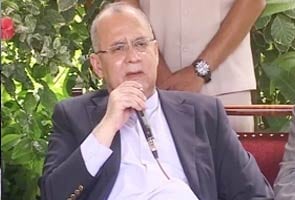 Hyderabad:
Pakistan's High Commissioner to India Salman Bashir Sunday described as baseless Indian media reports on infiltrations and called for both neighbours to address their respective concerns through dialogue instead of whipping up frenzy.
He called for leaving the issue to be addressed by the military authorities rather than pointing fingers. He also found fault with the way the Indian media, especially news channels, were focusing on "so-called incursions and infiltrations".
Talking to reporters here, he maintained that Pakistan wanted peace on the Line of Control (LOC) in Jammu and Kashmir and was ready for dialogue on all difficult issues.
"In the last few days, the Indian media has been focusing on Karen sector. There are concerns and we have concerns. Let us sit together and address them that is the civilised way of dealing with this instead of whipping up frenzy and creating hysteria. It does no good to anybody," he said when asked about the alleged involvement of the Pakistani army in ceasefire violations.
"But if we are going to talk about infiltrations and incursions, then we must also talk about something which is very important and which needs objective reflection in Pakistan, in this country and elsewhere," he said and asked who was funding the terrorists who were targeting civilians, the Pakistani Army and the Inter-Services Intelligence.
"We have evidence which we have shared and we are prepared to share with the rest of the world and particularly with government of India on these aspects about fuelling of acts of terrorism in Pakistan. I say this not to make propaganda point," he said.
"If you want I can vitiate atmosphere by spelling out those concerns but I don't want finger pointing. Let us address each other's concerns... that is the way forward and that is the logical, rational and civilised way. Let us not do this through media," Bashir added.
"Whoever is making the argument that they (infiltrators) have not descended from heaven, I want to ask who are these thousands of people who are involved in heinous acts of terrorism in Pakistan. Have they descended from heaven. We agree they have not descended from heaven. From where are they being funded and sourced," he asked.
"Unfortunately in this country you don't see this. It is not mentioned here. What you see is propaganda against Pakistan which serves no good. It is detrimental. We will deal with this issue in Pakistan. This issue is not local to Pakistan, it is global and for us it is also regional," he added.
Bashir arrived here Saturday on a two-day visit.
On Monday, he will visit the CII Green Business Centre and address an interactive session organised by the Confederation of Indian Industry (CII) Andhra Pradesh chapter.
Get Breaking news, live coverage, and Latest News from India and around the world on NDTV.com. Catch all the Live TV action on NDTV 24x7 and NDTV India. Like us on Facebook or follow us on Twitter and Instagram for latest news and live news updates.