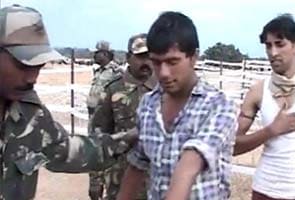 Jammu:
The Indian Army will not recruit men with permanent tattoos anywhere on the body, save the arms. The Army says permanent tattoos are health hazard, as they can act as carriers for certain diseases.
It is enforcing the recent ban with firmness and young men with tattoos were turned away at several Army recruitment camps held recently at Akhnoor, 40 kilometers from Jammu. As many as 30% of those who came in had permanent tattoos, a senior officer who conducts recruitment said.
Brigadier Vinod Raizada, Deputy Director General, Recruiting, Jalandhar Cantonment, said, "We have instructions since November that any person with tattoos anywhere on the body, except for the arms, cannot be recruited in the Indian Army."
Many of those turned away say they were not aware of the new rule. "I had a tattoo inked four years ago; I had no knowledge of this rule," said Adrees Ahmad, a candidate at a recent Army camp.
Another aspirant, Munazar Hussain Shah said he always wanted to join the Army, but did not know of the ban on tattoos when he got one.
A tattoo shop owner in Jammu, Sunny, says he spends a lot of time trying to talk people who walk into his parlour, out of getting inked in places that clothing won't cover, but more needs to be done. "Clean and sterilised needles must be used. This is a good profession," he says in defense of his craft.
Not that the Army ruling has affected the tattoo business here. Young people continue to flock the many tattoo parlours that dot the city.