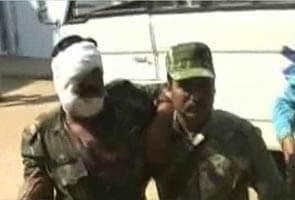 New Delhi:
The Indian Air Force (IAF) has given a clean chit to its pilot and crew accused of abandoning an injured radio operator after their Mi-17 chopper was attacked by Maoists while on a rescue mission in Chhattisgarh in January.
IAF Wing Commander TS Singh was on an evacuation mission in the South Bastar district of Chhattisgarh when his helicopter was attacked by Maoist rebels.
A radio operator of the Chhattisgarh Police, who was handling the communications for the chopper, was severely hit in the firing.
The helicopter was forced to land in the jungles of Timilwara, not far from where the crew was supposed to evacuate a wounded soldier.
The pilot, crew and the two Garud Commandos on board the chopper escaped, apparently to call for assistance, leaving behind the injured man, a light machine gun and personal weapons.
The COBRA commandos of the Central Reserve Police Force (CRPF) who later rushed in to secure the abandoned helicopter and rescue the injured radio operator recovered the weapons.
Although the common military code commands that an injured comrade, damaged machine or weapons should never be abandoned, the IAF's Court of Inquiry is understood to have endorsed the captain's decision.
"The Court of Inquiry has found the decision to seek help rather than leave behind a section to protect the injured man and machine to be correct. It has found the explanation given by Captain as plausible," a senior IAF official told NDTV.
The incident had brought the IAF at loggerheads with the Union Home Ministry and the Chhattisgarh government.
Then Home Secretary RK Singh had sought an explanation from the IAF. In its reply however, the IAF had only said that the Court of Inquiry was looking into the matter.
NDTV has also learnt that the Court of Inquiry has recommended changes in the Standard Operating Procedure for anti-Maoist operations. It has reportedly suggested increasing the number of Garud Commandos in each mission, more medical supplies and bullet proof jackets for the crew and commandos.