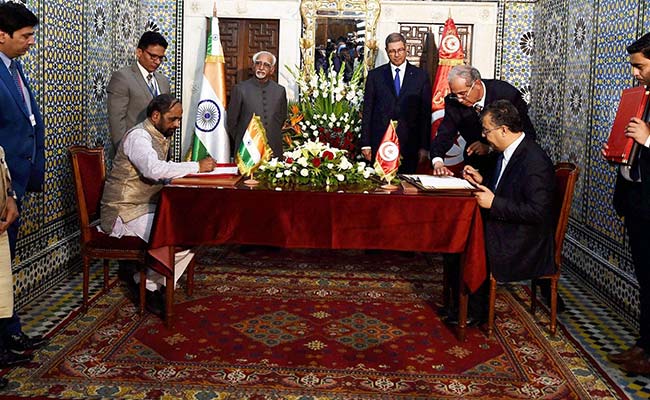 Tunis, Tunisia:
In an effort to increase mutual cooperation, India and Tunisia on Thursday signed two MoUs on promotion of handicrafts and IT and communication and digital economy as Vice President Hamid Ansari met Tunisian Prime Minister Habib Essid and discussed a range of issues of mutual and regional interests.
The two sides also discussed the issue of spreading tide of extremism and terrorism which is a threat both face, Vice President Hamid Ansari said while making the joint press statement with Tunisia Prime Minister Habib Essid.
"Successfully dealing with such threats requires strong cooperation among like-minded partners," he said.
Mr Ansari said, "We have discussed the issues related to combating this challenge and decided to enhance our cooperation in the field of counter terrorism".
Two MoUs - one on traditional handicraft promotion and other on IT and Digital economy - were signed after Mr Ansari and Mr Essid held one-on-one talks which were followed by the delegation-level talks between the two sides.
At the joint press briefing by Mr Ansari and Mr Essid, Tunisia announced signing of two agreements while the Vice President used the term MoU.
India will also train 350 Tunisian students in next five years, Mr Ansari said adding "We will be happy to receive 350 Tunisian students for training in our institutions in different streams as our guests over the next five years".
"We have also signed two memorandum of understanding for collaboration in IT and promotional of traditional handicrafts," he said.
The two sides will promote each other's traditional handicraft and increase mutual cooperation in the IT and related sectors, including digital economy.
Mr Ansari said that their discussion on bilateral relations focussed on ongoing economic partnership and on incorporating newer areas of collaboration in information technology and education.
The Vice President said, "I had substantial discussions covering the entire gamut of our bilateral relations as well as on global issues of mutual concern with Prime Minister Essid".
"I conveyed to him the felicitations of the people of India and through him to the people of Tunisia on the successful transformation of Tunisia into a vibrant multi-party democracy and conveyed our good wishes for its continued success," he said.
Mr Ansari said appreciated Tunisia's support for India's candidature to the UN Security Council.
"We highly appreciate Tunisia's support for India's candidature to the expanded United Nations Security Council," he added.
Speaking at the joint press briefing, Mr Essid said, "Our relations are very strong, our views are similar".
"We have relations with India in various fields including auto-sector, agriculture and other fields," Mr Essid said.
He said, "We also appreciate India's progress in the IT sector and we will have cooperation with India in this sector".
He said that the meeting of the India-Tunisia Joint Committee will be held later this year.
"The visit of the Vice President comes before the meeting of the Joint Committee. The current meetings have paved the ways for identifying keys areas of cooperation and improve further on our relations with India," he said.
He said that one of the important issues of today was tourism.
"We will work out a mechanism at the Joint Committee meeting for promoting tourism," Tunisian Prime Minister said.
The Vice President also visited Zaitouna Mosque, Bardo Museum and the House of Representatives.
Zaitouna Mosque is the oldest one in Tunis, the capital of Tunisia, and covers an area of 5,000 square metres.
It has 160 authentic columns brought originally from the ruins of the old city of Carthage.
Mr Ansari will meet Tunisian President Beji Caid Essebsi tomorrow and deliver a keynote address at Dar Al Dhiyafa.
Earlier, Mr Ansari, accompanied by his wife Salma, arrived in Tunisia from Morocco on the final leg of his two-nation trip.
He was received at the airport by Mr Essid.