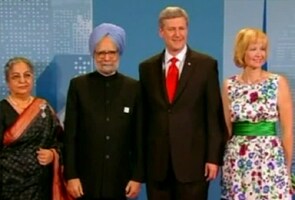 Toronto:
Prime Minister Manmohan Singh, who is in Toronto for the G20 summit, is expected to sign a civil nuclear deal with Canada later on Sunday when he meets his counterpart Stephen Harper.
Apart from Civil Nuclear Energy Cooperation Agreement, India and Canada are expected to sign an MOU for Cooperation in Mining, an MOU for Cooperation in Higher Education, an MOU for Cooperation in Culture and a Social Security Agreement, the sources said.
Agreements and MoUs will be signed after a bilateral meeting between Singh and Harper.
The deal will end 36 years of mistrust since Canada had accused India of using plutonium from reactors it had supplied, for the 1974 nuclear test.
Canada has rich uranium reserves so the deal is even more significant.
Harper will host a special dinner in honour of Singh which is expected to be attended by over 400 dignitaries. Singh is scheduled to leave Toronto on Monday to return to India.
Before conclusion of his visit, Singh will meet Indo-Canadian members of the House of Commons and Senate and members of Ontario legislative assembly and others. He may also visit Air India Memorial and meet families of victims if time permits.
"Canada and India are developing the tremendous potential of our relationship by rapidly expanding commercial, cultural and educational ties," Harper had said in a statement.
"I look forward to working with Prime Minister Singh to further capitalise on our shared strengths," Harper added.
Singh will also discuss regional and global issues of shared interests with Harper, officials said.
Prior to his departure to Canada for G20 Summit, Singh said, "India will participate in this exercise and project our expectations from the global economic and financial system, and the kind of global growth processes that we seek."
"The challenge of the summit will be three fold - to ensure that global economic recovery is durable, balanced and sustainable; to calibrate exit strategies in the light of growing concerns over expansionary fiscal policies; and to focus on medium and long-term structural issues relating to governance issues. To meet our ambitious development targets it is necessary that the global economy continue to recover in a stable and predictable manner," Manmohan Singh said. (With PTI inputs)