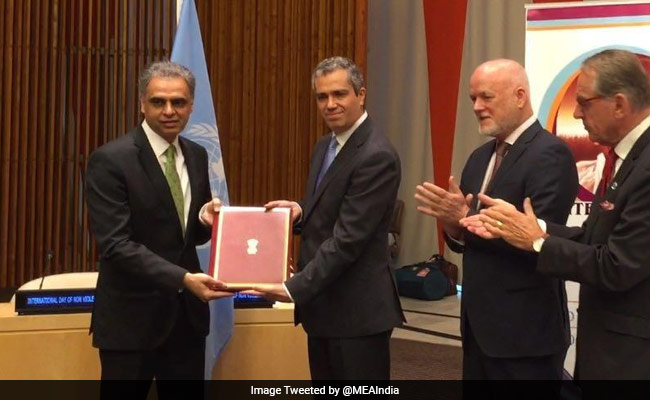 Highlights
India keeps its promise, says foreign ministry spokesperson Vikas Swarup
PM Modi had said ratification will happen on October 2
Not working under pressure, says Environment Minister Anil Dave
New Delhi:
India on Sunday formally ratified the COP21 Paris climate deal, marking a milestone in a treaty that binds nations to take action to reduce greenhouse gas emissions to avoid the threat of global warming due to human activities.
On Sunday evening government officials informed the UN secretariat in New York that it was operationalising the agreement. Foreign ministry spokesperson Vikas Swarup tweeted:
India keeps its promise. On Gandhiji's birth anniversary we deposit the instrument of ratification of #ParisAgreement#climatechangepic.twitter.com/2smyHPCm5L

Vikas Swarup (@MEAIndia) October 2, 2016
The move comes a week after Prime Minister Narendra Modi announced that the ratification of the landmark deal will happen on October 2, the birth anniversary of Mahatma Gandhi.
Soon after, US President Barack Obama tweeted:
Gandhiji believed in a world worthy of our children. In joining the Paris Agreement, @narendramodi & the Indian people carry on that legacy.

President Obama (@POTUS) October 2, 2016
Though India had played a key role at last year's Paris climate summit, officials had indicated last year that the nation might not be able to stick to the COP21 timeline, citing the time it would take to change processes.
While making the announcement during her address at the UN General Assembly last week, foreign minister Sushma Swaraj had said India launched an ambitious effort to transform energy mix to achieve 40% energy from non-fossil fuel sources by 2030.
Denying that the government was working under any "pressure", Environment Minister Anil Madhav Dave said, "We decided to ratify it on the Mahatma's birthday as his life was an example of leaving the least carbon footprint on the world," he added.
Erik Solheim, the head of the UN environment programme who is currently in India and was helping clean up Juhu beach on Rashtriya Swacchta Divas, which loosely translates to "national cleanliness day" said this could be an opportunity for India.
"There is a strong need for the most advanced countries... However, there is any number of job opportunities in going green. Let's not see this as an expense but as an opportunity," Mr Solheim said.
While more than 90 nations committed to cutting down emissions and switching to clean energy at the Paris climate change summit last year, the deal can take effect only when a minimum 55 countries ratify it. With India, 62 nations have now ratified the deal - 6 above the threshold limit.
While the actual treaty goes into effect from 2020, it makes it mandatory for all signatory nations to start cutting back on their carbon emissions to ensure that global temperatures don't rise more than 2 degrees Celsius.