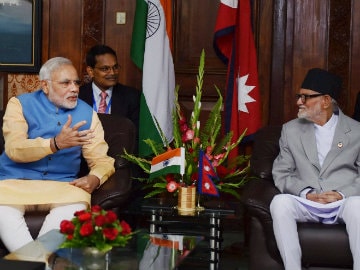 Kathmandu, Nepal:
Prime Minister Narendra Modi on Sunday met his Nepalese counterpart Sushil Koirala during which the two sides inked three agreements, including one on the 5,600 MW Pancheshwar Multipurpose Project that will pave the way to start the stalled project.
Prime Minister Modi, who arrived in Kathmandu on Sunday morning on his maiden official visit to Nepal, met Nepalese Prime Minster Sushil Koirala at Singha Durbar Secretariat.
The two leaders discussed various issues including Nepal's peace process and constitution-drafting process as well as economic issues.
They also discussed various facets of mutual relations and issues of common interest.
Nepal and India also signed three separate Memorandum of Understandings during the bilateral talks held between the delegations led by PM Modi and PM Koirala.
Under the first agreement, India would provide Rs 65 million to procure and distribute iodised salt in the rural areas of Nepal. This would be the extension of the ongoing goiter control project being implemented under India's grant.
The two governments also signed MOU regarding the amendment of Terms of Reference (ToR) of the Pancheshwar Multipurpose Project on the Mahakali river.
Under the agreement, the two countries have agreed to move forward works relating to Pancheshwar Development Authority by declaring Pancheshwar authority regulation.
The project falls under the integrated treaty on Mahakali River, bordering both Nepal and India, which was signed in 1996. It could not be developed earlier as the two countries could not decide on the terms of reference.
"It was decided long ago. The cost has gone up by a huge margin over the years but now both the countries have established respective authorities," Prime Minister Narendra Modi said as he addressed the Constituent Assembly. He expressed hope that work will start within a year on the 5,600 MW project.
"The project would add five times more electricity than Nepal produces currently. Not a small achievement. It will take development to newer heights," he said.
"India will play a pro-active role towards that and will put in its best efforts," PM Modi assured.
The third agreement paves the way for cooperation between two national broadcasting television channels - Nepal Television and Doordarshan.
At the conclusion of the bilateral talks, both Prime ministers signed the commemorative cover to be published by the Nepal Philatelic Bureau to mark the historic high-profile Indian visit to Nepal.
Both the leaders have accorded priority to work jointly on energy and infrastructure development, Foreign Minister Mahendra Pandey said after the talks.