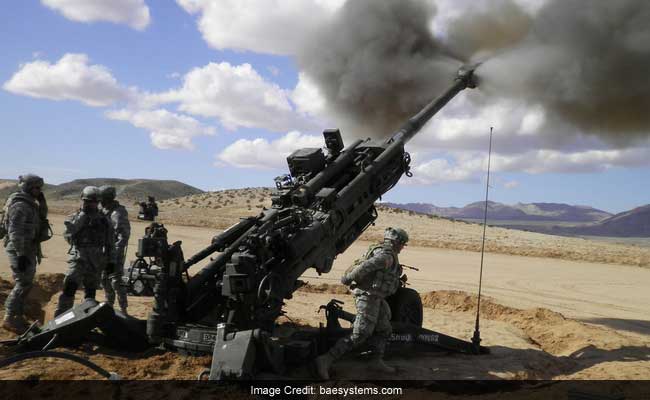 Highlights
India will buy 145 ultra-light howitzers at a cost of about $750 million
It is the first major buy for the upcoming Mountain Strike Corps
The guns can be slung on helicopters, transported unlike traditional guns
New Delhi:
India will be buying 145 ultra-light howitzers from the United States for the upcoming Mountain Strike Corps - raised in 2013 - to defend India's border with China.
Ultra-light howitzers can be slung on helicopters and transported unlike traditional guns that need to be moved over land which is difficult in the mountains.
The Defence Acquisition Council or DAC - headed by the Defence Minister Manohar Parrikar - which met today, decided to send the letter of acceptance to the US.
India will be buying the 155 mm M777 guns at a cost of about $750 million. This is first major buy for the Mountain Strike Corps.
Earlier gun-maker BAE had tied up with India's Mahindra for the deal.
Of the 145 guns, 25 will be supplied in a ready to use condition while the rest will be assembled and tested at the Mahindra facility in India.
In a related move, the DAC also asked Ordnance Factory Board (Jabalpur) to provide three 155 mm 45 caliber indigenously produced guns - named Dhanush - to Indian Army by June 30 and another three more guns by September. The army will be ordering 18 more guns.
The Indian Army desperately needs 155 mm howitzers to replace the aging Bofors cannons that were procured in 1987.
The indigenously made Dhanush have been tested and will going through the final lap of test starting this June, sources said.
The Indian Army, sources said, wants a higher rate of fire and has asked the Ordnance Factories Board to make necessary changes.
The Dhanush guns have been developed with the technology received in 1980s from Bofors FH-77B/39 caliber guns which India bought in 1987.
There are, however, several improvements that have been in the Dhanush. For instance, Dhanush has a longer range of 38 km as against the 27-km of Bofors. And, it automatically changes targeting systems to adopt to changes in ammunition and atmospheric pressures. Besides, the gunner has a high resolution sight which includes infrared that helps better targeting at night.
Sources said the 18 guns will be delivered in 18 months after the contract is signed. Another 36 more guns are to be delivered in the next the 12 months thereafter. The remaining 60 guns will be delivered by June 2020.
The Indian Army's needs 2,800 to 3,000 155 mm guns.