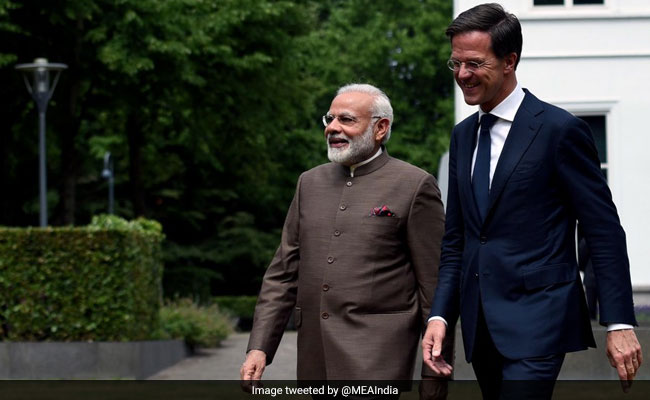 Amsterdam:
Describing the Netherlands as India's "natural partner" in its economic development, Prime Minister Narendra Modi today invited Dutch companies to invest in the country which he said is the "land of opportunities". Focusing on trade, technology and investment, Mr Modi interacted with CEOs of major Dutch companies after holding bilateral talks with his Dutch counterpart Mark Rutte.
The two countries signed three MoUs in the fields of social security, water cooperation and cultural cooperation.
During his interaction with top Dutch CEOs, Mr Modi said the reforms introduced by his government seek to enhance ease of doing business and bring standards at par with global standards.
The prime minister, who is here on the final leg of his three-nation tour, said India has made 7,000 reforms for attracting FDI in various sectors including real estate and defence.
He said India is a "land of opportunities" with over 7 per cent growth rate and 1.25 billion population of which 800 million people are below 35 years.
Water is a prime sector for cooperation between the two countries, Mr Modi said, referring to a joint water technology initiative, Dutch Indian Water Alliance for Leadership Initiative (DIWALI).
Irrigation and water conservation are the areas where the two countries can boost cooperation, he said.
Seeking investments, he said pension funds are especially welcome to India.
During the bilateral talks, Mr Modi and the Dutch PM reaffirmed their commitment to climate change accord and strengthen cooperation in developing renewable energy. Mr Modi thanked the key European nation for backing India's Missile Technology Control Regime (MTCR) membership.
"Your support helped India in getting the membership of the MTCR," Mr Modi said.
India joined the MTCR as a full member last year. MTCR membership enables India to buy high-end missile technology and also enhances its joint ventures with Russia.
"Ties between India and the Netherlands are very old. Our bilateral relations are very strong," he said.
Mr Modi said the Netherlands is the 5th largest investment partner globally and in the last three years it has emerged as the 3rd largest source of FDI for the country.
In the joint address, Mr Rutte said India's emergence as a global power is a "welcome development from both political and economic point of views."
"Political because of the values we share with respect of rule of laws and security," he said.