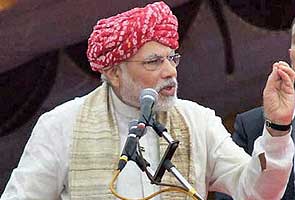 New Delhi:
The clash of the Independence Day speeches turned into a political slugfest on Friday as the Congress and the BJP sparred over Narendra Modi's no holds barred attack on Prime Minister Manmohan Singh in his speech on India's 67th Independence Day.
Congress leaders tore into Mr Modi, even likening him to a "frog" and calling him a "national embarrassment".
"Modi may be an asset to the BJP but he is a national embarrassment. I can say this without any hesitation, "said Union Minister Anand Sharma. "He is boastful and makes tall claims about the development model of Gujarat."
External Affairs Minister Salman Khurshid said: "What should I say about Modi? He is like a frog just out of the well, at a loss to find a place for himself, confused."
The remarks came after the Gujarat Chief Minister, in a fiery extempore speech on Thursday, ripped into the Congress government, particularly the Prime Minister, who he attacked not just on policy but also what he called an "uninspiring" Independence Day address.
Mr Modi, who is likely to be named BJP's presumptive Prime Minister soon, also challenged Dr Singh to a public debate on governance, saying the nation is "restless for change".
"On Modi's Independence (Day) Speech, I and Advaniji are on the same page. Modi's abrasive hunger for power has no limits," tweeted senior Congress leader Digvijaya Singh this morning.
Mr Advani, who had openly opposed the elevation of Mr Modi as BJP's national election campaign chief before being persuaded to fall in line, was seen to criticize the Gujarat chief Minister with these remarks: "I heard the Prime Minister...Today on Independence Day, without criticising anybody, we all should realise that India has unlimited possibilities for the future."
But the BJP today hit back at the Congress.
"We have been lectured not to criticise the PM's speech. Congress is concentrating more on telling the BJP what to do than doing what they should do," said BJP spokesperson Nirmala Sitaraman.