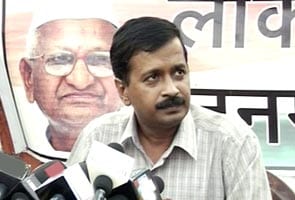 New Delhi:
The income tax department's deadline given to Arvind Kejriwal for depositing Rs 9.5 in dues for allegedly violating bond conditions ends today.
In a fresh notice issued last week, the I-T department claimed that Mr Kejriwal, an RTI activist and key Team Anna member, violated the provisions of the bond under which he went on study leave for two years and asked him to pay the amount by October 27. The department sent the first notice to Mr Kejriwal in August this year. Mr Kejriwal had then denied violating any rule.
According to the department, the dues have accumulated over the alleged violation of bond clauses under which Mr Kejriwal, an Indian Revenue Service officer, had gone abroad on study leave for two years between November 2000 and 2002.
When the office of the Chief Commissioner of Income Tax (CCIT) had written to him in 2007 and 2008 for clearance of his dues, Mr Kejriwal had said that he should be given a waiver. He said the fact that he took leave to work on Right to Information draft merits a waiver.
Mr Kejriwal and other Team Anna members have slammed the issuance of the notices terming it as an action of the government's "dirty tricks department" under "instructions from political bosses."
Mr Kejriwal claims he did not "violate any bond" provisions as he had resigned from the job after the stipulated three years of rejoining duty following his study leave. (With PTI Inputs)