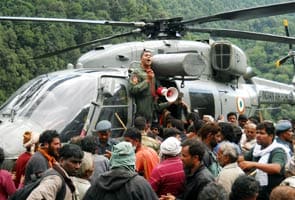 Joshimath:
Sifaarish
, the culture of political recommendations, is widely prevalent in India. From jobs to gas connections to passports: for those with access and the right connections and want to jump the queue, this one letter of
sifaarish
can do miracles.
So did VIPs and politicians similarly favour just a selected few, helping them break the queue to ensure they were evacuated on priority during the recent floods in Uttarakhand?
When flash floods ravaged the state, thousands were stranded in the temple town of Badrinath. The priority for evacuation by helicopters was first the old, the infirm, women and children and then the able-bodied. All of them were given numbered tokens to ensure the crowds were controlled.
Now, NDTV has accessed documents which were sent to the control room at Joshimath, the town which turned into a hub of massive relief and rescue operations, in Chamoli district, which raise several uncomfortable questions.
Take the case of a fax sent on June 27 by the Raj Bhavan in Uttarakhand which states that Governor Dr Aziz Qureshi had given "directions" that one 50-year-old Nilesh Ladda, his wife Meena and two adult children should be evacuated by helicopter as soon as possible. Mr Ladda's contact number is also mentioned along with the address and room number of the guest house.
When contacted, Mr Ladda said he knew Mr Qureshi for a long time as the Governor was earlier a Congress politician in Madhya Pradesh, his home state. "I am eternally grateful to him. He saved our lives," Mr Ladda said.
When asked if he had any illness that had required urgent evacuation from Badrinath, Mr Ladda explained he suffered from high blood pressure. "Sir,
tension se pressure high ho jaata hai
(my blood pressure rises when tensed)."
Did "high blood pressure" require such a high-level intervention?
The Governor's office said that he was out on an official tour and hence would not be available for comment.
On June 22, the office of Jyotiraditya Scindia, Congress leader and Union Minister of State for Power, sent an email which was then hand-delivered to the control room. The email sent by Rajiv Sharma, the Assistant Private Secretary to Mr Scindia, says, "I am forwarding herewith one more list of persons who have been stucked (sic) at Badrinath. Will be grateful if you could kindly arrange to send the same to concerned authorities to take appropriate action (early evacuation from Badrinath) at the earliest."
One of Mr Scindia's officials, Purushottam Parashar, clarified saying, "Those stranded were from Scindia's Guna constituency and needed help. This was a clerical error. There was no intention to make pilgrims jump the queue for evacuation."
But it doesn't end there. Though they didn't specifically mention the words "early evacuation", adding to the pressure, faxes which were also sent by the offices of Prime Minister Manmohan Singh and Union Steel Minister Beni Prasad Verma.
Signed by Uma Venkatesan, Private Secretary, PMO, the letter dated June 27, tells the state Chief Minister: "May I request your office to help rescue Shri Vijay Pal, Smt Manisha and their two children who are stranded in Badrinath Dham and are staying in Sadhu Ram Dharamshala"
Mr Verma's additional private secretary Panna Lal shot off a fax stating: "Shri Ghanshyam Singh, close associate of Hon'ble Minister of Steel is stranded at Badrinath along with his wife and three children. They are presently staying Bharat Sewa Sangh Ashram. Hon'ble Minister has desired for an urgent help for the rescue of Shri Ghanshyam Singh and his family." (sic)
Incidentally, there was no need of any "rescue" at Badrinath as it wasn't affected by the floods. The armed forced were only airlifting and evacuating pilgrims and locals.
However, it is unclear if all these demands were accepted on the ground. Though in some of the letters, District Magistrate S Murugesan scribbled notings directing his team to accelerate these requests; when asked if he gave in to any VIP demand, he vehemently denied.
It's true that politicians are also under immense pressure to act and help in such an hour of crisis. But what's questionable here is a matter of principle where there is push to evacuate a few before many others. After all, weren't the lives of all those who were stranded at Badrinath equally important?