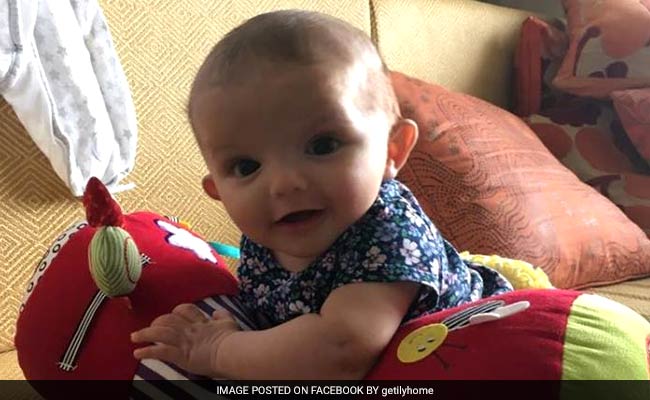 Highlights
Couple struggling to get British passport for baby born through surrogacy
Their visa expires next month; may have to leave baby in orphanage
"We will help you with your visa extension papers," Ms Swaraj tweeted
Mumbai:
Foreign minister Sushma Swaraj has offered hope to a British couple who had a baby through surrogacy in India, but had been apprehensive of having to leave her in an orphanage here, since UK is yet to issue her a passport.
"Orphanage is not an option for Lily. We will help you with your visa extension papers," Ms Swaraj tweeted, bringing relief to Chris and Michele Newman.
Chris & Michele Newman -Meanwhile, pl obtain British passport for Baby Lily. /2

— Sushma Swaraj (@SushmaSwaraj) September 14, 2016
Lily is now 3.5 months old, but hasn't got her travel documents. The Newmans, who are in Mumbai on an extended medical visa had applied for her passport on June 3.
UK says it needs to "needs to ensure that the child has a claim to British nationality, that surrogacy laws are adhered to, and that the child's best interests are protected". A statement from its home office further said a passport will not be issued "until all checks have been satisfactorily completed".
The Newmans' visa expires on October 7 and the UK foreign office has warned that all the formalities for Lily's passport will not be completed by then.
"I did have to do something no father had to - I was pacing around at 3 am, looking at orphanages in the middle of Mumbai," Chris Newman was quoted as telling BBC.
"It is madness that UK Government and HMPO is so willing to safeguard the well-being of a baby applicant to ensure that it hasn't been trafficked, that it is happy for that child to be left without its parents in a foreign country with a complete stranger." the couple from Surrey in England has written on a petition on change.org.
In a series of tweets, Ms Swaraj had taken up their case, asking, "Should orphanage be the destiny of a surrogate baby?" She also not only questioned the British authorities, but also took a swipe at those who criticised the government's move towards tougher surrogacy laws.
Commercial surrogacy is banned in Britain. Will British Government give a British passport to this surrogate Baby ? https://t.co/TNVa7IrG54

— Sushma Swaraj (@SushmaSwaraj) September 13, 2016
Will the advocates of commercial surrogacy suggest a solution and help this Baby ? Pl RThttps://t.co/OCVyNSSs4Y

— Sushma Swaraj (@SushmaSwaraj) September 13, 2016
The couple was among the last to have a surrogate baby in India after the government last month decided to ban commercial surrogacy and said only a close relative can be a surrogate.
The couple's lawyer told NDTV that if the minister really wants to help, "she should expedite their exit visa when the UK passport is issued and extend their medical visa."