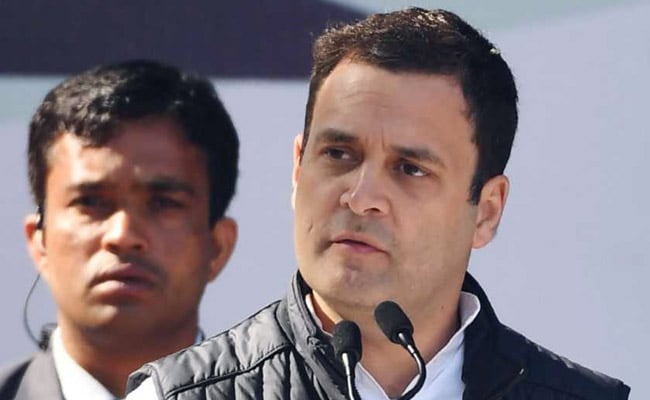 Highlights
Rahul Gandhi blamed PM Modi, Arun Jaitley for the slowdown
It is now estimated that GDP would grow at 6.5 per cent in 2017-18
This is a dip in comparison to 7.1 per cent growth rate in 2016-17
New Delhi:
The prediction of a slower economic growth in the financial year has provided Congress with ammunition against the government. In a tweet today, party chief Rahul Gandhi hit out at Prime Minister Narendra Modi and mocked Finance minister Arun Jaitley, blaming them for the slowdown.
Mr Gandhi has kept up a relentless attack on the government --- which started in the run-up to the recent assembly elections in Gujarat -- with his jabs at the flagship Goods and Services tax, the notes ban and the slowdown of the economy. He has dubbed GST the Gabbar Singh Tax and spoken repeatedly on Fake in India - a derogatory take-off on the Prime Minister's Make In India campaign.
In his tweet today, he dubbed GDP as "Gross Divisive Politics" and claimed that every aspect of the economy was on a downward slide. While new investments have been on a 13-year low and bank credit growth on a 63-year low, fiscal deficit is the highest in 8 years, he said.
FM Jaitley's genius combines with Mr Modi's Gross Divisive Politics (GDP) to give India:



New Investments: 13 year ⬇
Bank credit Growth: 63 year ⬇
Job creation: 8 year ⬇
Agriculture GVA growth: 1.7%⬇
Fiscal Deficit: 8 year
Stalled Projects https://t.co/bZdPnREYiE— Office of RG (@OfficeOfRG) January 6, 2018
Yesterday,
the Central Statistics Office had estimated
that the GDP or gross domestic product economy is expected to grow at 6.5 per cent in 2017-18 -- a dip incomparison with 7.1 per cent growth rate in 2016-17.
The prediction was good for financial, real estate and professional services sector. From 5.7 per cent recorded in 2016-17, it is expected to accelerate to 7.3 per cent. The manufacturing sector, however, is expected to grow at 4.6 per cent, in comparison with the 7.9 per cent of 2016-17.