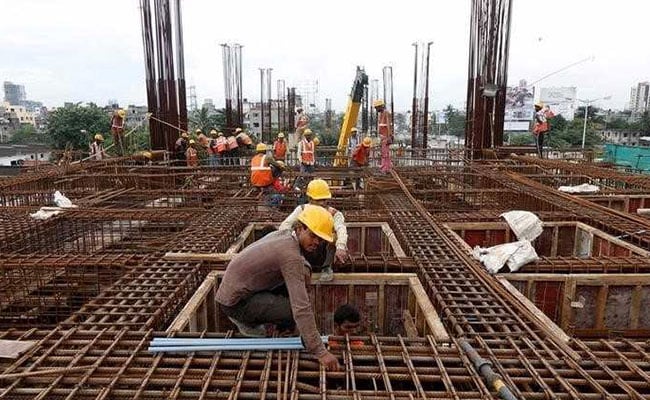 The GDP or gross domestic product economy is expected to grow at 6.5 per cent this fiscal (2017-18), according to the first advance estimates of the Central Statistics Office. The economy had clocked a 7.1 per cent growth rate in 2016-17. The estimate is crucial as the finance ministry prepares Budget 2018, which is set to be presented on February 1. "The growth in GDP during 2017-18 is estimated at 6.5 per cent as compared to the growth rate of 7.1 per cent in 2016-17," said the Central Statistics Office (CSO) while announcing the first advance estimates of National Income 2017-18. The growth of real Gross Value Added (GVA) in 2017-18 is anticipated at 6.1 per cent, against 6.6 per cent in the previous year.
The growth in the agriculture, forestry and fishing sector is expected at 2.1 per cent (vs 4.9 per cent growth recorded in 2016-17) while manufacturing is expected to grow at 4.6 per cent (vs 7.9 per cent in 2016-17).
The growth in financial, real estate and professional services sector is expected to accelerate to 7.3 per cent, from 5.7 per cent recorded in 2016-17.
"The GST transition impact is clearly visible," said Shubhada Rao, chief economist at Yes Bank. Sectors such as manufacturing and hotels were badly hit, she said.
Analysts said despite the lower economic growth, the Reserve Bank of India (RBI) is expected to hold policy rates steady after a recent uptick in retail inflation, which touched 4.88 per cent in November, its steepest level in 15 months.
"Given the recent uptick in inflation pressure and with inflation likely to remain around 5 per cent going ahead, we expect the RBI to be on hold with a guarded stance even though growth estimate has disappointed slightly," Ms Rao said.
A string of data released this week however point to an ongoing economic recovery after economic growth had slowed down to a three-year low in the April-June quarter, on the back of destocking ahead of GST (Goods and Services Tax) implementation and the lingering impact of demonetisation.
Factory activity expanded at the fastest pace in five years in December, a private sector survey showed on Tuesday, buoyed by a rise in output and new orders. Activity in the services industry also bounced back to modest growth in December after contracting in the previous month, a private survey showed on Thursday.
Eight core sectors grew by 6.8 per cent - the highest in 13 months - in November 2017, mainly helped by a robust performance in segments like refinery, steel and cement, official data showed on Monday.
Analysts remain optimistic of economic growth recovering further in 2018-19. "We expect growth to normalise gradually over the next four to six quarters as the disruptive impact of major policy changes fades," Standard Chartered said in its Economic Outlook report.
Also, aiding the Indian economy will be an expected pick-up in global growth in 2018, say analysts.
(With Agency Inputs)
The statistics office will release economic growth data for the October-December quarter on February 28, along with revised full-year growth estimates.