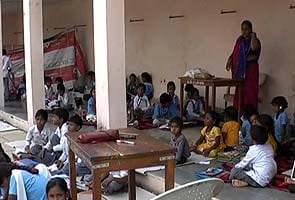 Manasa, Madhya Pradesh:
In a town in Madhya Pradesh, 90 children in uniform go every day to a women's toilet complex that they call school.
Classes are interrupted whenever women need to use the bathrooms. The children are made to turn the other way and wait till the women are finished.
"It is very dirty and smelly, but no one cares that we are forced to study in a bathroom," said Tina, a Class 5 student of the government-run primary school in Manasa town.
India's 'Education for all' programme, which mandates compulsory education for children between 6 and 14 years, takes on a new meaning at this town where Chief Minister Shivraj Singh Chouhan launched several development schemes .
At the 'toilet school', the plywood partitions that separate the 'classrooms' are also the blackboards used by teachers. When the sun beats down on the children, they use books for shade or shift classes to the shaded side of the complex.
Ironically for a school set in a toilet complex, there are no toilets for the students. A hot free lunch, which is also their entitlement by law, is beyond their dreams.
"We shifted here in January. The building was not ready at the time so we started classes here as a temporary arrangement. Now it is dragging on," said the principal, Sangeeta Aggarwal.
The district authorities made it clear that what was meant to be temporary is not changing any time soon.
"We had no building, so we had to make this arrangement. If the children are suffering in the sun, we will make arrangements for a roof," said SN Srivastava, Chief Municipal Officer of Manasa.
District Collector Vikash Singh Nawas claimed he had no idea such a government school was being run. He assured NDTV the school would be shifted.
In 2010, the Centre gave three years to all states to ensure basic infrastructure for schools after Right to Education became law. But a recent survey of nearly 800 government schools in the country has revealed that more than a third of the schools have unusable toilets or poor facilities, 63 per cent have no playgrounds and 60 per cent don't even have no boundary walls.