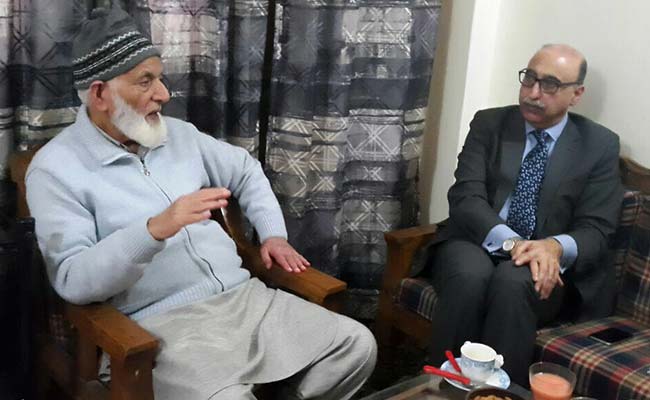 New Delhi:
At a time when the fragile relationship between India and Pakistan is shouldering new tension, Pakistani High Commissioner Abdul Basit visited Kashmiri separatist Syed Ali Shah Geelani in Delhi today.
The hardliner separatist's health and views on Kashmir were at the centre of the discussion, said sources in the Pakistani government. The diplomat "assured him that Pakistan will continue to extend moral, political and diplomatic support to the people of Jammu and Kashmir and their legitimate right of self-determination," said a statement from the high commission.
In the recent past, India has cancelled talks with Pakistan after Mr Basit ignored its objections and insisted on consulting separatists like Mr Geelani ahead of the planned dialogue.
As Prime Ministers Narendra Modi and Nawaz Sharif tried to launch a new effort to improve cross-border relations, the Air Force base in Pathankot was attacked by Pakistani terrorists last month. Seven military personnel were martyred.
India has made it clear that it will not schedule talks between the Foreign Secretaries of the two countries till Pakistan takes action against the leaders of the terror group Jaish-e-Mohammed, who Delhi holds responsible for the attack.
Meanwhile,
terrorist David Coleman Headley, imprisoned in the US
for his role in 26/11, has, in video appearances in a Mumbai court, said that Pakistan's spy agency, the ISI, provided financial and logistical support to the Lashkar-e-Taiba, which plotted and executed the terror attack that killed 166 people.
"Firstly he said that he was working for ISI... David Headley further confirmed that ISI and Lashkar-e-Taiba (LeT) had a close nexus with each other," public prosecutor Ujjwal Nikam told reporters. "I did ask him how he could say that... and he said 'ISI provides financial and moral as well as military support to Lashkar-e-Taiba."
Pakistan's government has technically banned the Laskhar, but a number of its leaders, including Hafiz Saeed and Zaki-ur-Rehman Lakhvi, remain free.