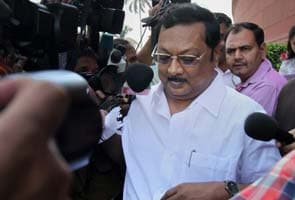 New Delhi:
The five DMK ministers who resigned today did not meet the Prime Minister together.
MK Alagiri and D Napoleon handed in their letters of resignation separately from the others. Party sources say this was Mr Alagiri's method of protesting against the fact that he had not been consulted about the DMK's decision to quit the government last night, a strategy allegedly fashioned by his younger brother and political rival, MK Stalin.
Yesterday, their father and DMK chief M Karunanidhi announced the party would quit the UPA, citing India's refusal to take a strong stand against Sri Lanka at the UN's top human rights body in Geneva.
Sources close to Mr Alagiri say he heard for the first time of this news on television channels.
Both Mr Karunanidhi's sons are determined and impatient to take over as party chief from the 88-year-old; he has hinted Mr Stalin, currently No 3 in the DMK hierarchy, will be his successor.
It was allegedly Mr Stalin who pushed his father to quit the government in the midst of negotiations with the Congress, which yesterday initiated the process of meeting both his demands: India will move amendments to the resolution on Sri Lanka at the ongoing United Nations Human Rights Council in Geneva; and the government is trying to introduce a similar resolution in the Indian parliament asking Sri Lanka to investigate alleged war crimes.
The fact that Mr Stalin's word was final is seen as an endorsement of his authority over the party. His father, sources say, was prepared to wait for the centre to meet the conditions he had set for a possible reconciliation with the UPA.