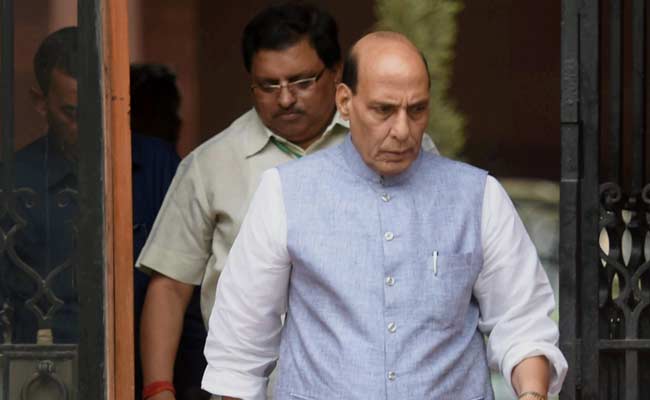 Srinagar:
Union Home Minister Rajnath Singh is visiting Kashmir from today to review security and, he said, interact with civil society groups, political parties and other stakeholders as the government launches an outreach promised by Prime Minister Narendra Modi.
Here are the latest developments:
"Those who believe in Kashmiriyat, Insaniyat and Jamooriyat are welcome," the home minister said as he left for Srinagar, invoking the words of former prime minister Atal Bihari Vajpayee.

This will be Rajnath Singh's second visit in a month to the Kashmir Valley, torn by violence as protesters have clashed with security forces since July 8, when Hizbul Mujahideen terrorist Burhan Wani was killed. At least 69 people have died in the violence and over 10,000 injured, many of them security personnel.

Meanwhile, a man has died and around 40 injured in fresh clashes between protesters and security forces in Pulwama district on Wednesday.

The priority, government sources told NDTV, is to end the cycle of violence in the Valley. Talks will be explored at stage 2, they said.

Ahead of his visit, Mr Singh held meetings in Delhi with various groups. Activists who met the Home Minister told news agency IANS that possible solutions to the Kashmir crisis were discussed at length in a "very open environment".

The government has said it will talk to all political parties and prominent citizens of Kashmir, but is clear it will not engage with separatists in the Valley, who it accuses of instigating the mobs that have attacked police stations and paramilitary camps and burnt vehicles belonging to security forces.

The minister's visit comes after PM Modi had, at a meeting with opposition parties led by former Jammu and Kashmir chief minister Omar Abdullah on Monday, called for dialogue for a "permanent and lasting solution" to the Kashmir crisis within the framework of the Constitution of India.

PM Modi told the opposition leaders that he was "distressed" with the Kashmir situation and shared "deep concern and pain" over the loss of lives. Parties in J&K have been demanding a "political solution" to the unrest.

After an unprecedented 45 days of curfew, restrictions were relaxed in parts of Srinagar on Tuesday. Shops and business establishments, however, remained closed, with separatist leaders asking people to continue the shutdown till August 25.

As the home minister visits Kashmir, the centre is rushing 56 companies of the Border Security Force or BSF to the Valley. The BSF enters Srinagar after 12 years.