The shadow of drought has deepened across Uttar Pradesh. Fifty of the state's 75 districts have been officially declared as drought-hit. Through this week, NDTV's Truth vs Hype show reports from one such region, Bundelkhand, where successive crop failures have had a convulsive impact on its people: from worsening hunger to mass exodus of entire villages. In a three-part series, 'Harvest of Hunger', we report not just on the impact of drought but also investigate the gradual collapse of the safety nets that are meant to protect the rural poor from such events.In the second part, we investigate the ground reality of the government's scheme to provide nutritious meals for children.
BUNDELKHAND, UTTAR PRADESH: In Lalwadi village in Uttar Pradesh's Bundelkhand region, we enter the compound of the primary school. One of the rooms at the back is reserved for the Anganwadi, a day-care centre where children under five are meant to be brought for a hot, nutritious meal.
Anganwadis can be a crucial lifeline, especially as drought tightens its grip on this impoverished region. Food stocks have run low and nutrition levels, not the best even in normal times, have plummeted. As we reported, the very
poor have taken recourse to eating rotis of weed
. Children - especially infants - are the most vulnerable.
But the angwanwadi is locked.
At the school, they told us that drought or no drought, the anganwadi worker is erratic in her attendance. "She may or may not come today," said Komalchandar Khushwaha, a young man we met outside the school. "She comes maybe four-six days a month."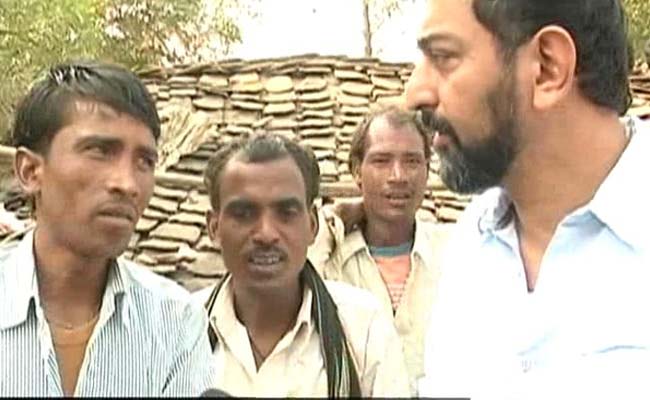 Finally, a woman arrived. Hiradevi, who assists the anganwadi worker, told us that she lives far away and so, got late at times. But she claimed that she came every day.
But when Hiradevi proceeded to show us inside, opening a dusty cupboard where the food is stocked, it appeared not to have been used for several days, perhaps weeks.
She admitted that food supplies were not regular. "If there are supplies, I make something. But if there isn't any food, how do I make anything?" she said.
Hiradevi told us that she will prepare some
dalia
or porridge. But when the packet was opened, tiny brown worms start crawling out, dozens of them.
Her explanation was unconvincing; she said that panchayat elections were on, disrupting the supply of
dalia
. But will the children eat wormy porridge, we asked. She indignantly rebutted, "I will first sift it and only then feed them!", drawing chuckles from villager who had crowded in to listen.
What we came across in the school is not unusual. Uttar Pradesh's poor track record of anganwadis is reflected in its high percentage of malnourished children, amongst the highest in India. In a recent survey by UNICEF and the Indian government on malnutrition, the state ranked 17th out of 20 major states, with 34 per cent of children below five years of age malnourished.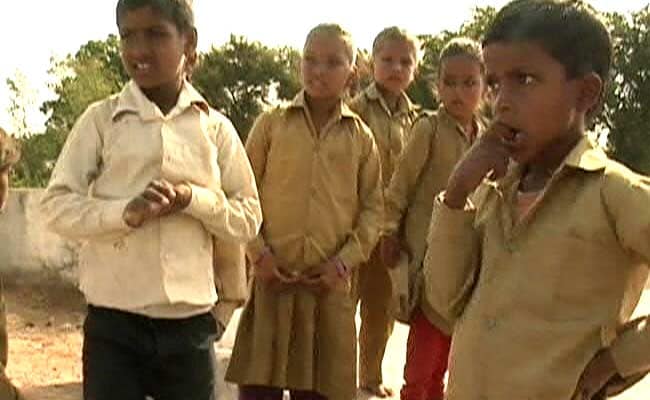 In 2012, a Supreme Court-appointed panel found that the quality of food being provided under the anganwadi scheme in Uttar Pradesh (along with three other states) was sub-standard.
The status of another potential source of nutrition - a scheme for school lunches for older children, meant to be cooked by the teacher - also appears dismal. Outside the anganwadi, schoolchildren mill about in the courtyard. They say their teacher may or may not come. When he does appear, children say he only cooks rice.
This is in violation of the scheme which entails a different combination of cereals and pulses rotated over six days. The menu is painted on the walls of the school: a mix of rice, rotis,
khichdi
, vegetables, dal and
kheer
to ensure the children get all the essential nutrients and also find the interest to eat. "Have you eaten any of this?" we asked. The children shook their head: "No, only rice."
The teacher appeared to be as indifferent a cook as an instructor. "He sits on the chair and reads the newspaper all the time. And then he goes to sleep," said seven-year-old Rambharose.
In a 2011 Planning Commission study of over 20 states on the effectiveness of delivering mid-day-meals, Uttar Pradesh fell at the very bottom of the table.
When we confronted the
village pradhan
(head), Halkan Khushwaha, he said he had complained to the authorities, but nothing came of it. "No one comes there. If there is someone, the children aren't fed. They eat it themselves. I've complained several times," he said.
While drought is a recurring crisis in several states, the conditions in Bundelkhand tell a different story - of the breakdown of essential government services at a time when many believe these schemes should be ramped up.
"What you can do in drought situation is to strengthen these programmes - give higher allocations for mid-day meals, give more money for dal, may be introduce eggs, like many of the other states have done with very good effect," said economist Jean Drèze.
In Lalwadi village, they have given up the wait. Children have been taken out of school, entire families ready for an exodus to worksites in India's big cities. Hunger is a bigger, more immediate crisis than the loss of learning.
(More on Truth vs Hype: Uttar Pradesh's Harvest of Hunger at 9:30 pm on Saturday, 7:30 pm on Sunday on NDTV 24x7)
Get Breaking news, live coverage, and Latest News from India and around the world on NDTV.com. Catch all the Live TV action on NDTV 24x7 and NDTV India. Like us on Facebook or follow us on Twitter and Instagram for latest news and live news updates.