Over the past fortnight as India's attention was riveted on the floods in Chennai, the shadow of drought has deepened across Uttar Pradesh. Fifty of the state's 75 districts have been officially declared as drought-hit. Through this week, NDTV's Truth vs Hype show reports from one such region, Bundelkhand where successive crop failures have had a convulsive impact on its people: from worsening hunger to mass exodus of entire villages. In a three-part series, 'Harvest of Hunger', we report not just on the impact of drought but also investigate the gradual collapse of the safety nets that are meant to protect the rural poor from such events. In the first part, NDTV looks at whether the hunger which has forced people in Bundelkhand to eat grass and weeds, a man-made phenomenon?
BUNDELKHAND, UTTAR PRADESH: In Lalwadi village in Uttar Pradesh's Bundelkhand region, they show us where they forage for the next meal: a parched field on the outskirts.
Here, they scrape through the mud at the base of a dried stalk of a local grass, known as
fikaar
. A few seconds later, we are shown a few seeds, almost indistinguishable from the soil.
"We normally feed the grass to the cattle," says Prasad, "but now we have no choice but to eat its by-product".
Back in the village, in the home of Param and Hasarbai, an old Sahariya couple supporting a family of seven, we are given a demonstration of how the seeds become a meal: first ground into flour in a stone pestle, then kneaded into a greenish-black dough, and finally shaped into rotis and cooked on an earthen
tava
on a wood-fired stove.
The accompaniment is no less frugal: a basket of green leaves, which look like spinach, but is called
samai
, a kind of weed that grows along river banks. This is cooked, with a little water, into a sabzi. There is little to season it; a small dish of oil and salt is poured in towards the end.
As the roti is taken off the griddle and about to be fed to a gaggle of children, we taste a sample. It is bitter to the point of being inedible. Despite the cooking, it tastes of raw grass and the mud. The children too can barely eat it. The adults egg them on, but to no use.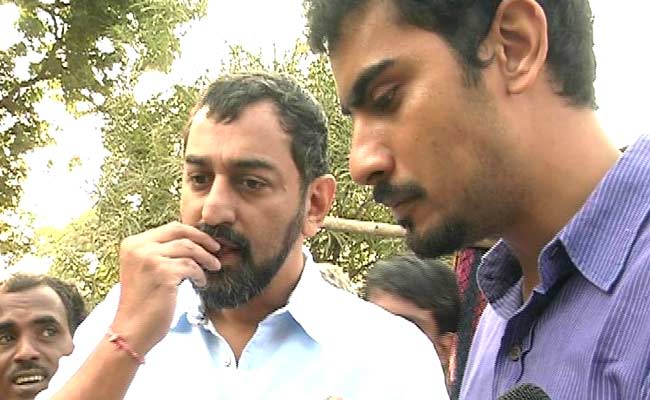 A normal diet here, even in good times, is frugal: rotis of wheat or corn, with dal and sabzi. But these are not normal times. Bundelkhand has been roiled by three successive crop failures - for two years because of drought, and a year in the middle because of unseasonal rain.
The impact on the region, especially the poor, has been acute. From three meals a day, they are down to two. The quality of food has plummeted; the recourse to rotis of grass is an indication that they have reached the bottom of their food stocks.
The most cruel irony is the dwindling of the main source of protein, dal, now an expensive and scarce commodity. In normal times, the fields around Lalwadi would be dotted with saplings of
urad
dal, some of it to be sold, but some kept for the home. Now there are just withered stalks this year.
Each successive drought has only exposed the perils of Uttar Pradesh's sustained neglect of its public distribution system. The state still follows the old system, of a monthly entitlement of 35 kilograms of subsidised grain for each family classified as below the poverty line (BPL). In the village, we do come across some who say they get most of it - about 18 kilograms of rice and 15 kilograms of wheat.
But a great many do not, despite belonging to the same impoverished category. "We did not get our new ration cards," we heard, again and again.
The National Food Security Act, passed in 2013, requires states to update its subsidy rolls to arrive at a more realistic estimate of beneficiaries. Several poor states, like Bihar for instance, have completed the exercise. Uttar Pradesh has not; the state government decided to implement the Act only two months ago. Currently, it identifies only a fourth of its population as BPL. Under the new Act, that figure would be close to 75 per cent, says the economist Jean Drèze.
Any process of revising rolls, especially for a state as vast as Uttar Pradesh, could take months. As a temporary measure, activists like Jean Drèze suggest that the state government temporarily universalise PDS in drought-hit districts like Lalitpur where Lalwadi is located. At the moment, there is little indication that the state is planning this, or any other emergency measure.
So how will they cope? At their fields, the villagers pushed five-year-old Rani, gnawing at a dry roti made of cornmeal, to the front of the crowd. She dabbed a little piece with a dried lemon and ate it. Next to her is another girl, Halki, also 5. She too clutched a dry roti of corn, with it a small pickled cucumber.
Jean Drèze is unsparing in his assessment: "What is unfolding in Uttar Pradesh is man-made starvation."
(More on Truth vs Hype at 9:30 pm Saturday, 7:30 pm Sunday on NDTV 24x7)