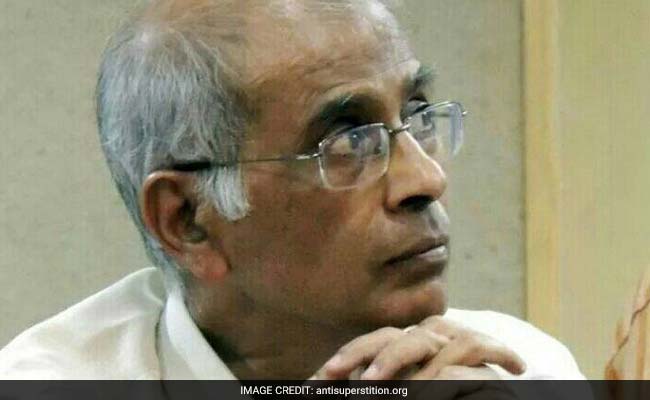 Pune:
The CBI on Saturday told a court in Pune that Sharad Kalaskar, one of the accused in the killing of rationalist Narendra Dabholkar, disposed of four firearms in a creek near Mumbai in July.
The agency has claimed that Kalaskar was one of the two people who shot at Dabholkar on August 20, 2013 at the Omkareshwar Bridge.
The Central Bureau of Investigation (CBI) also told the court that Vaibhav Raut, arrested by the Maharashtra Anti-Terrorism Squad (ATS) in an arms haul case in August, was with Kalaskar when he dumped the weapons.
Raut and Kalaskar were arrested on August 10 by the ATS, following a raid in the Nallasopara area of Palghar district, which led to the seizure of explosives and firearms.
Judicial Magistrate SMA Sayyad extended Kalaskar's custody till September 17.
CBI lawyer Vijaykumar Dhakane told the court that on July 23, Kalaskar and Raut dismantled four firearms and dumped those in a creek from a bridge while going from Pune to Nallasopara, near Mumbai.
Mr Dhakane said the central probe agency was yet to ascertain the location of the bridge from where the weapons were disposed of.
"As they were travelling at night, the suspect could not recollect whether it was Kalva, Ghodbunder or any other bridge, from where he had thrown the firearms," Mr Dhakane told the court.
Meanwhile, a CBI officer said they suspected that one of the four weapons dumped in the creek was used in Dabholkar's killing.
He added that Kalaskar and Raut might have decided to dispose of the weapons after developing cold feet following the arrest of Amol Kale in connection with the killing of journalist-activist Gauri Lankesh in Bengaluru.
Kale was arrested in May by the Karnataka police's Special Investigation Team (SIT), which is probing Lankesh's murder.
The CBI took Kale into custody earlier this month in connection with Dabholkar's killing.
The officer, speaking on the condition of anonymity, also said there was a possibility of a third person being present, besides Kalaskar and Aurangabad-resident Sachin Andure, when Dabholkar was killed.
Andure was arrested on August 18 from Pune and the CBI had told the court that he was the main shooter in the case.
The officer said the third person was standing on the Omkareshwar Bridge.
"As Dabholkar was walking on the bridge, someone greeted him. One of the shooters then asked this person whether the man walking on the road was Dabholkar. After getting a confirmation, Kalaskar ran towards Dabholkar and shot two rounds at him. After Dabholkar collapsed, Andure too fired a round," he said.
The officer added that it was to be investigated if the third person was an associate of Kalaskar and Andure or someone unknown to them.